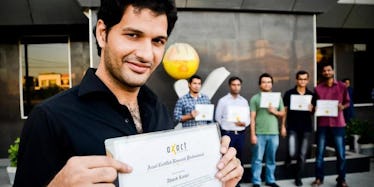 This Pakistani Company Makes A Ton Of Money Selling Fake College Diplomas
Facebook
A Pakistani software company is making millions selling fake high school diplomas and college degrees.
According to The New York Times, Axact designs websites for fake colleges with names like Barkley, Columbiana and Mount Lincoln -- all while making phone calls around the clock to advertise its services.
The colleges offer online "degrees" in dozens of subjects as well as authentication certificates claiming to be signed by Secretary of State John Kerry.
Axact is said to rake in "tens of millions of dollars" every year off the degrees. The company charges about anywhere from $350 for high school diplomas to over $4,000 for doctoral degrees.
Allen Ezell, a retired FBI agent and author of a book on the fake diploma businesses, told The New York Times,
Hands down, this is probably the largest operation we've ever seen. It's a breathtaking scam.
Actors play the roles of professors pictured on the company's websites while salesmen impersonate American government officials or corporate recruiters during sales phone calls.
In a promotional video on one of the college sites, a woman advertised as the head of a law school says,
We host one of the most renowned faculty in the world. Come be a part of Newford University to soar the sky of excellence.
Axact employees write fallacious reports about the fake colleges on iReport, a section of CNN's website where anyone can take a stab at journalism, and create LinkedIn profiles of the schools' faculty members.
Some customers clearly understand what they are buying, and others are duped into enrolling in nonexistent classes.
One junior accountant paid $3,300 for an online master's program only to receive a low-priced tablet computer in the mail and insistent phone calls telling him he needed to spend more for more necessary certifications.
These degrees are also purchased by professionals in numerous industries seeking advancement or a new career.
A nurse in Abu Dhabi reportedly paid Axact $60,000 for a medical degree she needed for a promotion.
Later this year, Axact plans to launch Bol, a television and newspaper company.
Bol reportedly stole several employees from competitors by offering them unrivaled salaries.
Citations: Fake Diplomas, Real Cash Pakistani Company Axact Reaps Millions (The New York Times)