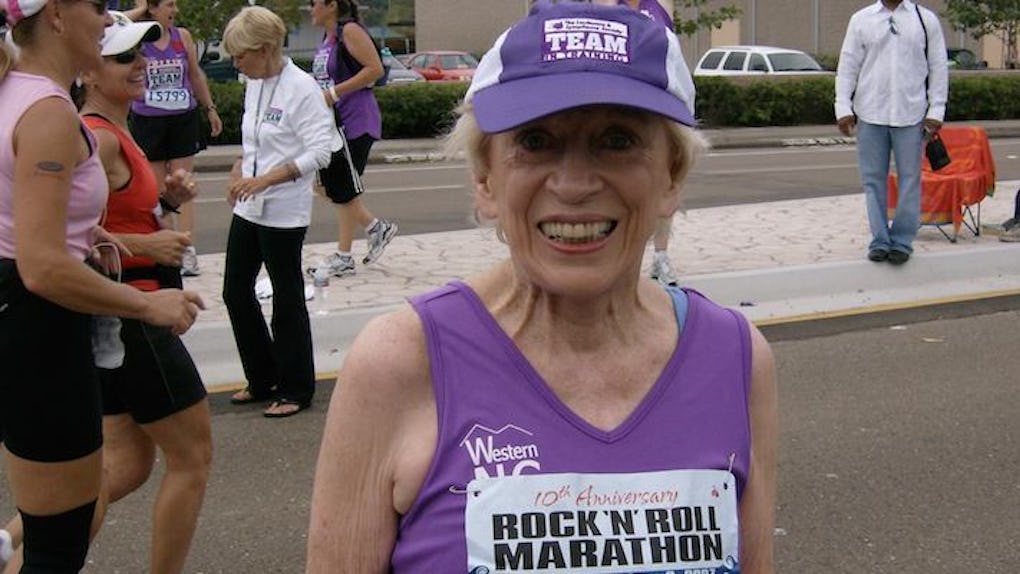 Facebook
This Amazing 92-Year-Old Became The Oldest Woman To Finish A Marathon
Generally, the older you get, the harder it becomes to do physical activity.
But 92-year-old Harriette Thompson is the exception to the rule.
On Sunday, the Charlotte, North Carolina-based elder became the oldest woman ever to complete a full marathon.
Thompson, a cancer survivor, completed the 26-mile jaunt in seven hours, 24 minutes and 36 seconds. It was her 16th Rock 'n' Roll Marathon to date.
Completing the race wasn't easy, according to Thompson, a classically-trained pianist.
She told ABC News,
I couldn't train very well because my husband was very ill and I had to be with him for some time and then when he died in January I had some treatments on my leg. [So] I was just really thrilled that I could finish today.
Thompson began running in her 70s as a way to raise money for cancer research. She recalls,
At that time, I had lost several people in my family to cancer….When I got out there the first year, I just planned to walk it, but everybody else was running so I started to run with them. I don't think I'd be living today if I didn't do this running. I'm helping [cancer patients] and they're kind of helping me.
Prior to becoming a marathon champ, Thompson made a name for herself as a musician and played three times at the famed Carnegie Hall. It's clear, even at 92 years old, she still has a lust for life -- and we couldn't think of anything more inspiring than that.
Citations: 92 Year Old Woman Becomes Oldest Woman To Finish Marathon (ABC News)