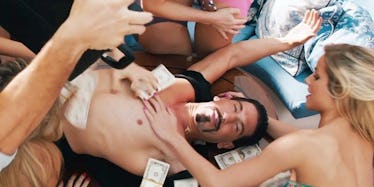 NYC Escorts Are Earning Over $1K An Hour Catering To Wall Street's Elite
Paramount Pictures
At least two New York escorts are able to charge $1,000 an hour for satisfying the needs of Wall Street bankers.
CNBC reports one escort, "Chelsea," 29, moved from Canada to Manhattan 10 years ago to become an escort.
She said,
I worked for an agency back then. Most of the calls were from coked-up traders. They couldn't get it up half the time, so I'd just sit there naked and do blow with them. It wasn't hard.
Chelsea is now self-employed and earning over $200,000 a year.
Many in her line of work prefer to attract as many clients as possible, and instead, they charge just $400 an hour.
But a lot of Chelsea's clients are wealthy traders, and that allows her to work just five times a week.
Of interacting with financial professionals, she says,
The younger guys want you to be there 15 minutes ago and usually just want to party. They're super aggressive and terrible in bed.
On the other hand, Chelsea claims older Wall Street workers tend to be more respectful and deserving of high-quality service.
Some clients treat their meetings as therapy sessions, she added,
They very often open up and talk about real stuff like their kids or wives. Or what drama they're dealing with at work. I just listen.
Chelsea will eventually retire with several hundred thousand dollars saved and secured in mutual funds.
Another escort, known as "Holly," still lives in Vancouver but flies to New York "every couple of months."
Her clients must spend a minimum of two hours with her, leaving her with at least $2,000 per meeting.
Holly only works with Wall Street workers some of the time, but recalled one particularly generous client. She said,
Last time I was in town, a Wall Street guy canceled on me last minute and then next morning he showed up and paid me anyway.
Holly now has over $100,000 saved up and is nearing one of life's proudest achievements: She intends to retire this November when she reaches the age of 29.
Citations: Wall Street is booming again (CNBC)