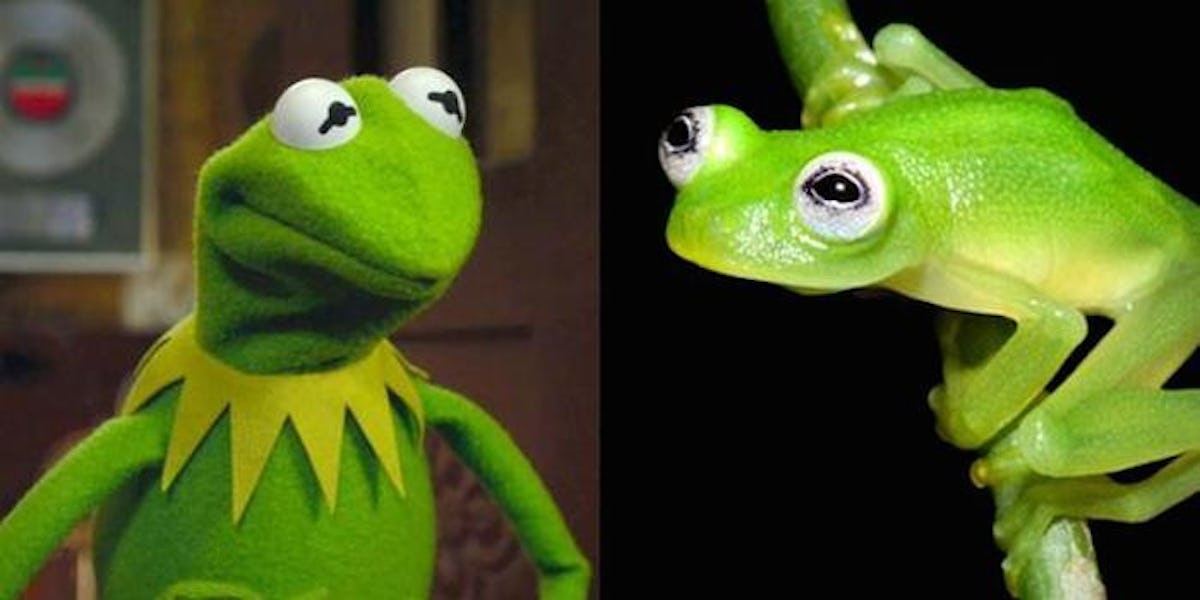 New Species Of Frog Actually Looks Exactly Like A Real-Life Kermit (Photos)
If you think this recently discovered species of frog looks freakishly familiar, it's not your imagination: This lil' hopper is a real-life Kermit the Frog.
The never-before-seen glass frog was discovered in the Caribbean Talamanca Mountains by Costa Rican Amphibian Research Center founder Brian Kubicki and his research team earlier this year.
The discovery, according to Kubicki, is "a good indicator of the general health of the eco-system," and marks the first Costa Rican glass frog discovery since 1973.
Glass frogs are named as such due to their translucent (glass-like) skin.
According to an announcement posted on the Research Center's Facebook page, this new species — named the Hyalinobatrachium dianae, after Kubicki's mother, Diana — is the 14th species of glass frog to be discovered in Costa Rica.
While the news of a new species discovery is scientifically groundbreaking, most non-scientists are more excited about the creature's obvious resemblance to the frog of Muppets fame.
It's too bad Jim Henson isn't around to see his most famous character's creation in the flesh.
For in-depth details of the findings, read Kubicki's piece for Zootaxa, co-authored by scientists Stanley Salazar and Robert Puschendorf.
In the meantime, check out some pics below of Kermit's living twin.
Kermit (left); H.dianae (right)
Is that Kermit? Newfound species resembles the world's most famous frog http://t.co/0WQ7d9O8Gt pic.twitter.com/IIOivri5yV — TODAY (@TODAYshow) April 20, 2015
H. dianae (right); Kermit (left):
Newly discovered Costa Rican glassfrog species is a #Kermit look-alike http://t.co/jdGWdNDV86 #FNSciTech pic.twitter.com/FYhr8sdoJt — FoxNews.com SciTech (@fxnscitech) April 20, 2015
Kermit (left); H. dianae (right):
If you think this real frog (on the right) looks exactly like Kermit (on the left) -- RETWEET! http://t.co/OUd3MrPWk2 pic.twitter.com/ifwWBw71sT — WPXI (@WPXI) April 20, 2015
H. dianae:
A real-life Kermit the Frog was discovered in Costa Rica >> http://t.co/qO2f4ZTKUY pic.twitter.com/twPZMmqhCo — Discovery (@Discovery) April 21, 2015
H. dianae:
Newly discovered glass frog has transparent belly and looks like Kermit http://t.co/0nPT9jzoX4 pic.twitter.com/1WwuhcDCNZ — CNET (@CNET) April 21, 2015
Citations: Scientists Claim They Found A New Species Of Frog And It Looks Exactly Like Kermit (Time), Kermit New Species Of Glass Frog Found (USA Today ), Newly Discovered Frog Looks Like Kermit (CNN)