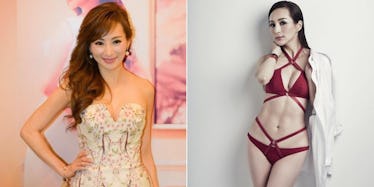 This Model With Three Kids Is 50 Years Old But You'd Never Believe It (Photos)
As a teenager or 20-something, looking younger than your actual age is a curse (take it from someone who, at 22, perpetually gets mistaken for a teenager).
But past 25, looking younger is a good thing -- a very good thing.
And model Candy Lo is blessed with that very gift.
The 50-year-old mother of three recently released a photo book titled "Timeless" and is generating plenty of buzz for her seemingly flawless appearance.
The Hong Kong native definitely doesn't look well beyond her 50 years, with smooth, wrinkle-free skin and abs most mothers only dream of.
But Lo has always been a beauty: In 1991, she won the Miss Asia beauty pageant, and she has been modeling and acting for the majority of her adult life.
Lo first gained the media's attention when she shared a sneak peek of the "Timeless" shoot on Instagram.
The book, which already sold 3,000 copies, proved a huge hit.
But it's the star's youthful appearance that people are most interested in.
At 50 years old, Lo could easily pass for 25.
She has wrinkle-free skin…
A killer bod…
...and gorgeous, feminine features.
Lo is beautiful on the inside, too.
She's donating a portion of proceeds from her book…
...to help female survivors of domestic abuse.
Find more photos of this ageless beauty on Instagram.
Citations: Mother of three you will never believe is 50 stunning model looks decades younger in photos showcasing her wrinkle free skin and toned body (Daily Mail)