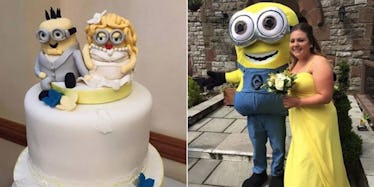 These People Actually Had A Minion-Themed Wedding And It's Incredible (Photos)
Facebook
You've never seen a wedding quite as quirky as this before.
When Samantha Finan and Bob Thomas decided to tie the knot, they knew they wanted to have a unique ceremony.
Both had been married once before and felt comfortable forgoing the traditional ceremony in favor of something a bit more fun and personal.
The theme? Minions.
Finan spoke to North-West Evening Mail about the ceremony, which included a Minion cake, yellow bridesmaid dresses and even a Minion tattoo.
We were sat out in the back and talking about [wedding] themes and it just came up in conversation. We had a laugh about it. At first, it was just going to be the cake. Then it was cuff links. Then the place cards. It has gotten a little out of hand. All the guests think we are bonkers but it's our sense of humor.
The kooky couple, who have been together for almost three years, finally tied the knot on July 4 in Dalton, England.
Check out some photos from their insanely cool ceremony below!
Every detail of Finan and Thomas' wedding was Minion-ized.
Instead of a "Just Married" banner, they tied a Minion toy to their car.
Their cake, of course, was decorated with the canary-colored creatures.
And they even had a life-sized Minion join the party.
Some might think it's strange, but for them, it was perfect.
Thomas boasted, "It's just superb."
He added, "We just wanted [the wedding] to be different."
Mission...
TOTALLY...
...accomplished!
Citations: Barrow Couple Plan To Have Minion Themed Wedding (North West Evening Mail), This Couple Had A Minion Themed Wedding (BuzzFeed)