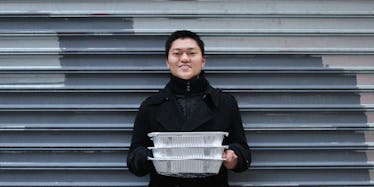 Man Collects Food Restaurants Would Throw Out And Gives It To The Homeless
Robert Lee never meant to spend his days in the cold and heat, lugging an unwieldy cart and giving pop quiz-style trivia questions to timid volunteers.
The 24-year-old New Yorker, a child of Korean immigrants, graduated from New York University with a well-paying position at JPMorgan Chase & Co.
He could've gone on to lead a high profile career in the finance industry.
Once you find your passion, however, it takes precedence over the plans you once made.
That's especially true for Lee, the cofounder of Rescuing Leftover Cuisine (RLC), a multi-branch sustainability effort attempting to end urban hunger.
Thanks to countless long hours and a sense of humor that won't quit, Lee is beginning to make headway.
Growing up with an eye for conservation shaped Lee's career path.
Lee's interest in food conservation stems from his parents, who never had much in the way of extra funds.
Insisting on clean plates, they'd sometimes tell their children stories of afterlives where you'd be given a utensil and forced to eat the remains of every wasted morsel.
Needless to say, that's not an easy mental image to forget.
And after several collegiate years spent volunteering for NYU's Two Birds, One Stone, a group delivering extra dining hall food to homeless shelters, Lee was struck by the idea he could streamline the system.
Creating a new food delivery system took time.
Using online portals like VolunteerMatch, Lee and his fellow "Rescuers" recruit groups of eager altruists.
They march the streets of New York City, collecting paper bags of food from willing cafés and restaurants that would only have thrown it away.
Within half an hour, black trash bags of unused bagels burst over the edge of Lee's cart, threatening to top the whole thing.
The weight of the food collected fluctuates, but Lee and his team collect anywhere between five and 120 pounds of food every day.
Like some kind of bizarre offering to a god with peculiar tastes, they hand-deliver their haul to a nearby homeless shelter.
RLC does more than just pick up food and pass it on, however.
Lee and his team work to record each minute detail of the food they weigh in order to help restaurant partners understand what they can do to streamline their production process.
After years of hard work, they're gaining momentum and enthusiasm, day by day.
As "nervewracking" as Lee says the journey from stability to entrepreneurship has been, he's beginning to attract attention.
Since taking on the initiative full time, Lee and his cofounder, Louisa Chen, won recognition from Do Something and, most recently, a $10,000 grant from KIND.
RLC, which now also operates out of a Washington branch, is growing every day.
Lee and his team partner with restaurants, one bag at a time, to save food that would otherwise have landed in a garbage can.
RLC's growth is only limited by the amount of able arms helping to carry the load.
And with branches forming in Los Angeles, Albany, Miami and San Francisco, Lee and his volunteers are on their way to fill empty stomachs across the country.