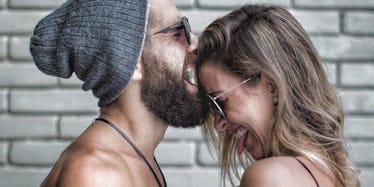 Scientists Say Men Use Beards To Prove Dominance And Attract Women
We all know beards may arguably be the biggest trend in 2015 so far.
Hipsters, Brooklynites, and even the men of Corporate America are beginning to grow their facial hair out more and more each year, much to the delight of lumberjack fans across the nation.
Research shows guys might be hopping on the bearded bandwagon purely as a way to get attention from the women they desire.
In a study performed at the University of Western Australia, scientists found 154 different types of primates representing 45 genera use certain features as a sign of dominance, attractiveness, identity and rank within their groups.
While for some monkeys the special feature might be a longer nose or warts, for men it appears to be the beard.
The researchers also discovered mustaches and beards among British men from 1842 to 1971 gained popularity once facial hair became a sign of attractiveness and sex appeal in men.
Lately, it seems men have been growing out any type of hair they can get their combs through. Man buns, mustaches, beards and chest hair are all becoming normal and acceptable all over the world.
Dr. Cyril Grueter, an author of the study, tells the Daily Mail,
In large groups where individuals are surrounded by strangers, we need a quick reliable tool to evaluate someone's strength and quality, and that's where these elaborate ornaments come in.
The study also notes that male on male competition may be another reason for growing a beard. Grow on, guys.
Whoever has the best beard of 2015 wins.