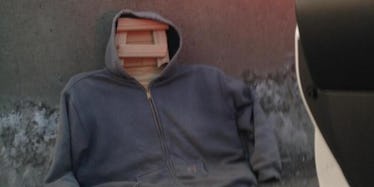 Man Tries Driving In Carpool Lane With Wooden Figure As Passenger
Suffolk County Police Department
In a story straight out of a sitcom, a man put a wooden dummy in his passenger seat so he could use the carpool lane to get to work on time.
Police pulled over James Campbell, 56, on Friday at around 6:30 am, according to The New York Daily News.
The Brentwood, NY, resident was caught speeding as he headed west on the Long Island Expressway toward exit 51 in Dix Hills.
He was using the high-occupancy vehicle lane, which can only be accessed if the driver has at least one other person in the car.
The passenger seat in Campbell's pickup truck wasn't empty, but his occupant, unfortunately, did not have a pulse.
It turned out to be a few pieces of wood covered with a hoodie.
Campbell told police he used the dummy because he just got a new job and didn't want to be late.
The officer somehow managed to contain his or her laughter and gave Campbell summonses for speeding and violating occupancy rules.
His wooden friend has refused to comment without a lawyer present.
Citations: Man trying to be on time for new job busted for dressing up a wooden figure to use carpool lane (The New York Daily News)