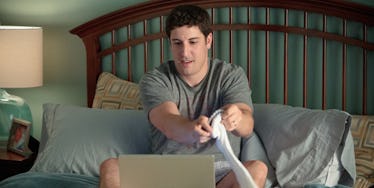 Man Gets Fired For Watching 39 Hours Of Porn At Work In Just Two Weeks
Universal Pictures
It's generally safe to assume nothing you do on the computer can be kept under wraps.
One Baltimore City employee learned that lesson the hard way. The Department of Public Works official, who remains unnamed, got canned from his city job after his employers documented him watching porn on his office computer.
After receiving a complaint, the Office of Information Technology began to monitor the employee's work activities through a monitoring device secretly installed on his computer.
Over a two-week period, the employee, who worked at the city's Wastewater Treatment Plant, watched nearly 39 hours of porn on a DVD he brought to work.
The hours spent watching the video equated to approximately $1,166 in salary.
According to Inspector General Robert Pearre, Jr., Baltimore City has a policy against any government employee using office equipment for non-city functions.
He insists,
It would have been the same if he were watching sports on his computer for four out of eight hours a day.
Pearre's report also states the employee watched the pornography in full-screen mode, implying "little to no work was being performed during the time that pornographic material was visible on the screen."
After an initial suspension in September, the employee was officially fired on January 20.
Citations: Baltimore City employee fired for watching porn (The Baltimore Sun )