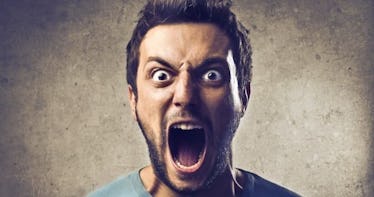 Really Unlucky Man Managed To Literally Break His Penis During Sex
When you hear something snap while you're having sex, you probably don't immediately check to see if your dick is in one piece.
Well, maybe you should.
For one 42-year-old man in Boston, the snapping sound he heard while underneath the sheets wasn't the bed post or a loose spring in the mattress.
Instead, he looked down to find his dick flaccid and bloody after it slammed into the space between his partner's vagina and back end.
The snapping noise was his tunica albuginea tearing, which is the spongy outer part of the corpus cavernosa, where the blood is pooled to create an erection.
Basically, this guy snapped his boner in half after going a little too hard in the sack.
Luckily, the man's doctors are saying he has made a full recovery after emergency surgery.
They also said there are no abnormal curvatures in his penis, nor is he suffering from erectile dysfunction -- just a really awkward conversation with his family about why he's been in the hospital so much recently.
Don't get me wrong, I'm all for a little roughness in bed, but you probably need to dial back the thrusting when your dick breaks during sex.
Citations: Agony of man, 42, who broke his PENIS during sex (and says he heard it snap) (DailyMail)