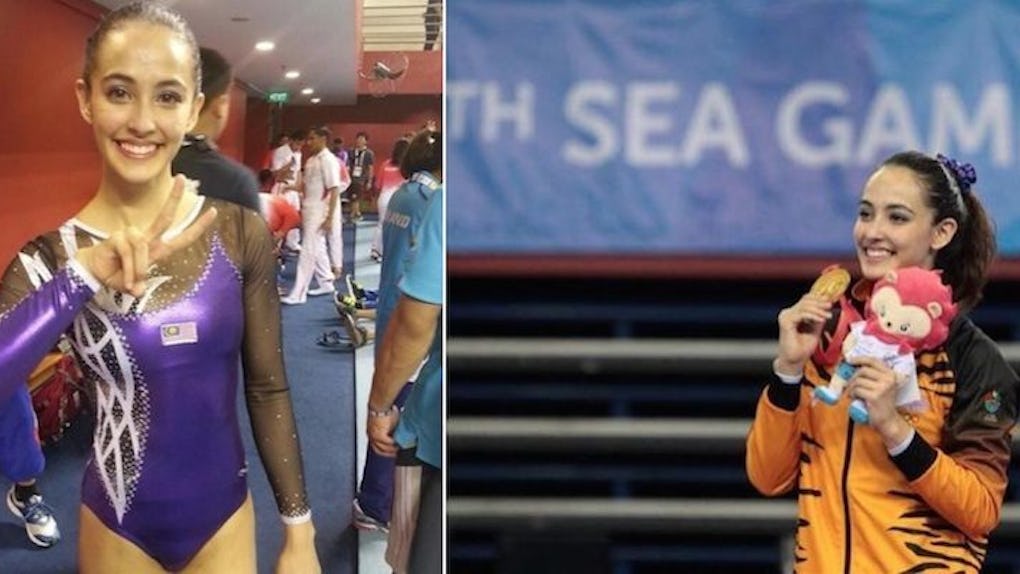 Facebook
This Gymnast Is Under Fire For Her 'Revealing' Competition Leotard
Last week, 21-year-old gymnast Farah Ann Abdul Hadi won a gold medal for her flawless floor routine at the 28th Southeast Asian (SEA) Games in Singapore.
The SEA Games is a multi-national sporting competition, similar to the Olympics; winning a gold medal is a high honor.
Soon after the Malaysian gymnast was announced the winner of the floor event, a local news channel posted a picture of her to its Facebook page.
In the photo taken at the event, Hadi, while still in her leotard, smiles and flashes a peace sign.
It's a pretty tame photo — at least by American standards.
As such, the photo quickly began attracting the attention of male Muslims on Facebook, many of whom posted comments criticizing Hadi for showing her "aurat," or private areas.
Even officials in Malaysia — a predominantly Muslim country — called out the young gymnast for her attire.
In response, Hadi's fans created a Facebook page to support the gold medalist.
As of this morning, over 19,000 fans have joined, and dozens have posted words of encouragement in defense of the talented, young woman.
Congratulations on the gold medal, Hadi, and remember: Haters gonna hate. 
Citations: People Are Outraged Over This Gymnastics Gold Medalists Revealing Outfit (BuzzFeed)