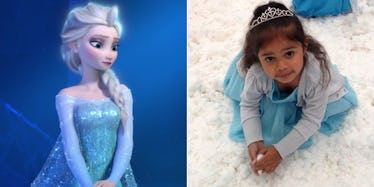 People Crown Little Girl A Queen After She's Told 'Elsa Isn't Black'
People are terrible.
An Aboriginal mother in Australia is reportedly recovering after a couple of girls and their mother used racist remarks to inform her 3-year-old daughter she couldn't dress up as Queen Elsa from Disney's "Frozen."
The incident happened at a Disney-inspired event in Melbourne where Rachel Muir's daughter, Samara, was dressed up as Queen Elsa.
Rachel says she and Samara were waiting in line to go into a children's snow pit when a woman in front of them turned to her daughters and told them she didn't know why Samara was dressed as Queen Elsa because "Elsa isn't black."
Yeah, an adult woman said that.
After she made the remarks, one of the woman's daughters turned around, pointed at Samara and said,
Black's ugly, and you're black.
Rachel couldn't believe what was being said and that there was such racism in Melbourne, a place she reportedly described as, "one of the most multicultural places in the world."
Samara started to cry but ultimately made the decision to stay on the line and have her turn in the pit.
In the days following the attack, Samara allegedly became withdrawn and refused to take part in her Aboriginal dance class.
In a segment on Channel TEN's "The Project," Rachel explains when she asked her daughter why she didn't want to go to her dance class, Samara simply replied,
Because I'm black.
Rachel shared her story on Facebook, and the post went viral with support for Samara and disgust at what the lady and her daughters said.
My daughter was in tears when we were at watergardens for the frozen activities as a mother & her 2 daughters told my...
Posted by Rachel Muir on Sunday, May 31, 2015
Through all this negativity, Samara found a small happy ending.
After reporting the article on June 12, The Courier received a large amount of mail and social media comments supporting Samara.
Dear Samara Muir: You are beautiful and every bit Australia's own princess. Those horrible rude people are the ugly ones. #PrincessSamara — AJ (@iamnotshouting) June 22, 2015
@ballaratcourier lovely! Samara is a beautiful child & she can be anyone she wants to be! That goes for play time & when she grows up! <3 — Mickey in Lalaland (@MkyinLalaland) June 22, 2015
@ballaratcourier she's just beautiful ;) @mackaysuzie — ComradeTroublemaker (@MinhKular) June 14, 2015
@ballaratcourier @filmgirl152 that's just not right. Elsa can be any damn size, age and race she wants. — Ross Joseph (@truthfulnerd) June 14, 2015
After reading about what happened, rapper Adam Briggs signed Samara on to play a role in his next video.
In Adelaide, Samara was also reportedly crowned "Queen Elsa of Australia" in a Facebook competition.
Citations: I dont know why youre dressed up because Queen Elsa isnt black three year old Aboriginal girl left in tears after she is racially abused by a grown woman for wearing her favorite Frozen costume (Daily Mail)