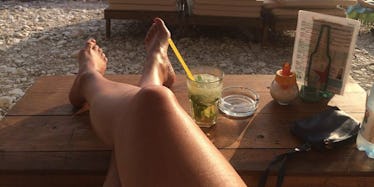 People Show Some Leg After Student Kicked Out Of Exam For Wearing Skirt (Photos)
The length of a skirt shouldn't have anything to do with one's right to education, but a law school in Algeria recently made the news for prioritizing so-called modesty over intelligence.
After a security guard refused to allow a young woman in the university's testing room on May 9 because her skirt fell at her the knees instead of below them, a frustrated filmmaker took action.
France 24 reports Sofia Djama is the creative force behind the Facebook page roughly titled "My dignity is not in the length of my skirt."
There, she invited activists to post photos of their legs -- bare or clothed -- in protest.
Legs from both men and women plaster the page.
These bare limbs send a clear message of freedom.
They also represent solidarity.
As BuzzFeed notes, the incident follows another skirt debate in France.
In April, a 15-year-old Muslim girl was forced to leave class twice because her skirt was deemed too long.
The skirt was called a "provocation," according to a report from The Guardian.
Djama's Facebook page gained more than 8,500 followers sending clear messages.
Discrimination against female learners will not be tolerated.
According to TSE Algérie, however, the dean of Algiers law school is standing by the guard's discriminatory decision.
The guard reportedly told the woman to return to the exam dressed modestly, and she left to purchase pants.
Luckily, the woman had the money to purchase the pants and was granted entry into the exam.
Her bare legs, however, have been the catalyst for a feminist movement.
Citations: Algerians Are Taking Leg Selfies After Student Was Banned From Exam For Wearing A Skirt (Huffington Post )