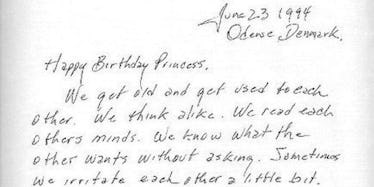 Johnny Cash's Love Letter To His Wife In 1994 Will Melt Your Heart (Photos)
Earlier this month, life insurance company Beagle Street polled 1,000 adults to uncover the best love letters ever written.
The majority of participants voted in favor of a 1994 love letter, penned by none other than Johnny Cash.
The famed musician wrote the message for June Carter, his wife, on her 65th birthday.
In the incredibly sweet note, Cash refers to his wife as "Princess," and insists that she is the greatest woman he'd ever met.
In 2003, two months after June passed away from heart surgery complications, Cash wrote another letter in honor of his late wife, in which he professed his continued love for his "angel."
And in the musician's last performance before his death, he told the audience:
The spirit of June Carter overshadows me tonight with the love she had for me and the love I have for her. We connect somewhere between here and Heaven. She came down for a short visit, I guess, from heaven to visit with me tonight to give me inspiration and courage like she always has.
Cash passed away just four months after his late wife; his grief was likely too much to bear.
It's clear from his letters (which you can see below) that the pair were very much in love — perhaps, even, that they were soulmates.
With Valentine's Day just around the corner, we thought it perfectly fitting to share what may just be the greatest love letter of all time.
The "best love letter of all time," according to voters.
Happy Birthday Princess, We get old and get use to each other. We think alike. We read each others minds. We know what the other wants without asking. Sometimes we irritate each other a little bit. Maybe sometimes take each other for granted. But once in awhile, like today, I meditate on it and realize how lucky I am to share my life with the greatest woman I ever met. You still fascinate and inspire me. You influence me for the better. You're the object of my desire, the #1 Earthly reason for my existence. I love you very much. Happy Birthday Princess. John
Cash's second letter, from 2003:
July 11 2003 Noon I love June Carter, I do. Yes I do. I love June Carter I do. And she loves me.  But now she's an angel and I'm not. Now she's an angel and I'm not.
Citations: This Wonderful Love Letter From Johnny Cash To His Wife Will Melt Your Heart (Buzzfeed)