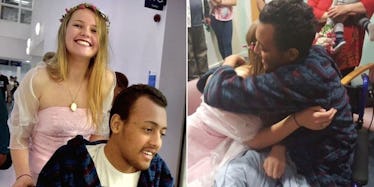 Terminally Ill Teen Married His Girlfriend Days Before Passing Away
A British cancer patient married his high school sweetheart after learning he would die in a matter of days.
Daily Mail reports Omar Al Shaikh, 16, and Amie Cresswell, also 16, went to school together, but their relationship didn't blossom until tragedy struck in June of last year.
That's when Omar was diagnosed with acute myeloid leukemia (AML), and when he entered remission, Amie visited him in the hospital constantly.
The boy was released from the hospital last October, but a few months later, the cancer returned.
Still, Amie stayed by his bedside every weekend.
She told Daily Mail,
When he was told it had come back it was just a massive shock. I knew I wanted to stand by him through it all. He is such a lovely soul -- I wanted to spend as much time as I had with him as possible.
Omar had three months to find a stem cell donor, but his unique Arabic and Romanian roots made the search difficult.
By the time a match was found, the cancer already spread to Omar's bone marrow, rendering him too sick to undergo a transplant.
On June 14, Omar was told he had less than a week to live.
Despite the horrific news, he wasted no time in pursuing his last wish: Just hours after hearing of his imminent death, Omar crafted a ring out of daisies to propose to Amie.
The bride said,
Omar wanted to get married before he died, and when he proposed, I just jumped at the chance. We had talked about getting married but never imagined we would be 16. We thought we would grow old together.
The two obtained permission from their parents and were married four days after Omar's prognosis.
Omar's mother said she "felt proud" during the Islamic ceremony that took place in front of around 20 friends and relatives at Queen Elizabeth Hospital Birmingham.
She told BBC News,
Marrying Amie was one of his wishes, he just wanted to make it right before he died, because he said, 'If God asks me, I will say this is my wife.'
Amie said,
[Omar] wanted the whole world to see him marry me.
Unfortunately, she became a widow just three days later.
However, Omar's mother said her son fought for his life until the very end, and he undoubtedly died a happy man.
Citations: Teenager marries her terminally ill high school sweetheart in heart breaking hospital ceremony just days before he dies in hospital (Daily Mail), Birmingham cancer teen Omar Al Shaikh marries days before death (BBC)