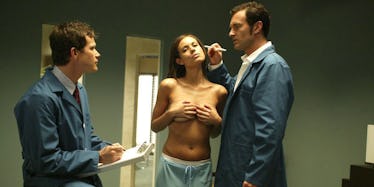 Idiot Writes A Book On How To Convince Women To Get Breast Implants
Warner Bros. Television
Ivan LeCasque considers himself the master of persuading women to enlarge their breasts.
The 59-year-old Florida man is winning media attention for "The Convince Her to Get Bigger Breasts Manual," his how-to guide for men hoping to talk their female partners into getting augmentations.
The ebook, available at LeCasque's website, implants4her.com, reportedly sold over 3,500 copies.
LeCasque's selling point isn't just his fancy domain name; it's also his persuasive method. His current girlfriend, 47-year-old Victoria, was a D-cup until they began dating. To date, she's enlarged her chest to a size K in an effort to fill LeCasque's bosom fantasy.
In an online manifesto, LeCasque writes,
Large breasts -- natural or augmented -- are simply incredibly beautiful to most men. They are beautiful and inspiring in the most poetic sense and they stir our emotions.
There's no word on whether or not Victoria suffers from back pain as a result of her ballooned breasts, but she sees no problem with Ivan's seemingly-manipulative methods.
Victoria told an interviewer,
I think it's wrong for women not to pander to their men. If they feel like their husbands prefer blondes, I think you should be blonde. If you like bigger breasts, why not?
We'll leave you with words straight from LeCasque's blog: "Speak about breasts like a poet, even if you are a caveman."
Citations: A sad man has written a book on how to persuade women to get boob jobs (Metro )