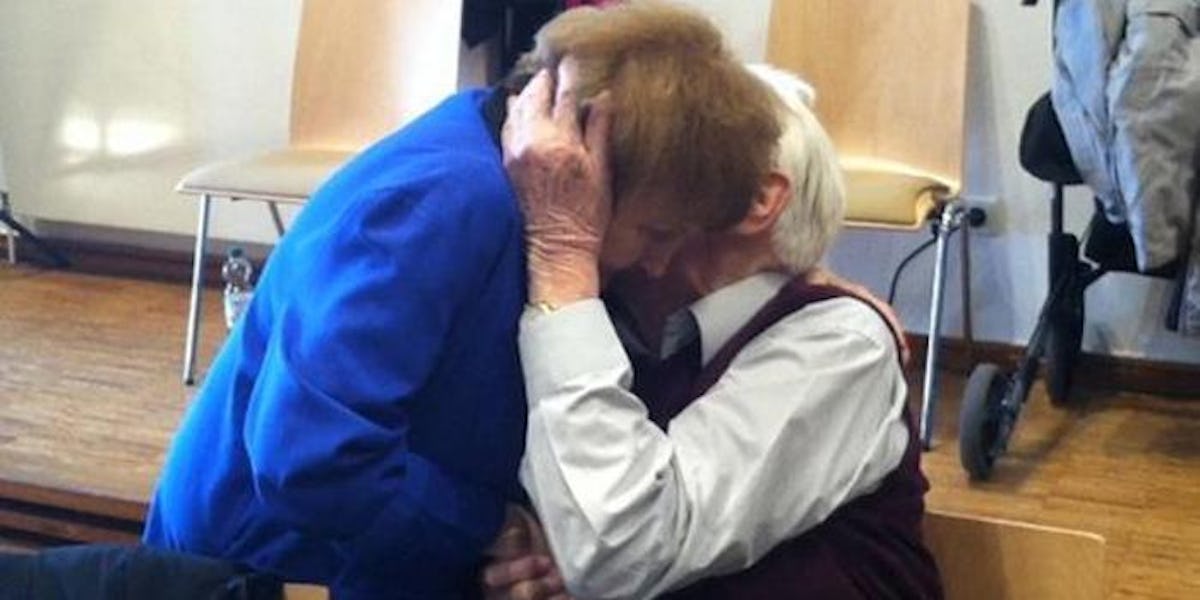 Holocaust Survivor Kisses And Forgives Nazi Guard Currently On Trial (Photo)
Many can ask for one's forgiveness, yet few are strong enough to truly forgive another.
Despite her incredible circumstances, Auschwitz survivor Eva Mozes Kor is one of the special few for whom forgiveness comes naturally.
Last week, the 81-year-old testified at the trial of Oskar Groening, a former Nazi sergeant, and thanked the now 93-year-old man for taking accountability for his actions.
Groening, a former SS Guard at Auschwitz who kept watch over thousands as they were marched to the gas chambers, is being tried for 300,000 counts of accessory to murder, a charge that carries a maximum 15 year sentence.
In court, Groening said,
I ask for forgiveness. I share morally in the guilt but whether I am guilty under criminal law, you will have to decide.
On Friday, Kor — who was subjected to horrific medical experimentation while imprisoned — approached the former guard in court and thanked him for "having some human decency in accepting responsibility for what he has done."
The 93-year-old former Nazi responded in a way that neither Kor nor anyone else saw coming: He hugged her and kissed her on the cheek.
Though Kor admitted she was "astonished," she posted a photo of the unexpected exchange on Facebook.
She wrote,
I know many people will criticze me for this photo, but so be it. It was two human beings 70 years after it happened. For the life of me I will never understand why anger is preferable to a goodwill gesture.
She hopes that Groening's willingness to admit to his actions will help the victims and the former Nazis join together to "face the truth, try to heal, and work together to prevent it from ever happening again."
Citations: Former Nazi Guard Oskar Groening Kisses Holocaust Survivor Eva Kor During His Trial (Huffington Post)