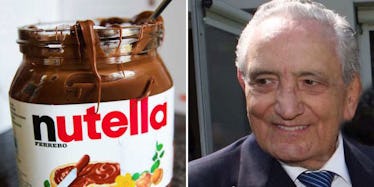 Head Of Nutella Empire, Worth $23.4 Billion, Dies On Valentine's Day
Chocolate addicts, a moment of silence, please: Michele Ferrero, head of the Nutella empire and the richest man in Italy, passed away on Valentine's Day after battling an illness for several months. He was 89 years old.
Recently named one of the world's richest billionaires by Forbes Magazine for his net worth of $23.4 billion (which landed him and his family at number 30 on the list), Ferrero was the world's wealthiest candy maker, having dedicated his life to the trade.
Michele's father, Pietro Ferrero, began the family's legacy in Alba, Italy, in 1942, when he opened his own chocolate laboratory.
During Pietro's seven-year tenure as head of the company, he invented Nutella as a response to the rationing of chocolate during World War II.
After his father's death in 1949, Michele took over. He remained leader of the Ferrero empire until his resignation in 1997.
Michele is credited with inventing Tic Tacs, Kinder chocolates, and the beloved Ferrero Rocher chocolate-hazelnut balls.
Italian President Sergio Mattarella remembers Michele Ferrero fondly, describing him as "always ahead of his time thanks to innovative products and his tenacious work and reserved character."
Michele is survived by son Giovanni and wife Maria Franca.
Citations: Michele Ferrero Maker Of Nutella Dies On Valentines Day (Yahoo News)