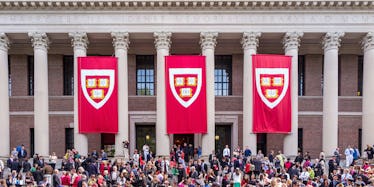 Smarts Over Sex: 1 In 4 Harvard Seniors Never Had Sex During College
Shutterstock
For most young adults, college is synonymous with freedom. It's the first time away from home and away from parents.
As a result, many indulge in activities they wouldn't be able to do in their parents' homes, and sex is a major part of that equation.
But according to a new survey, such is not the case at Harvard University. In fact, approximately 25 percent of graduating students admitted to not having sex at all during their undergrad years.
Given most stereotypes about collegiate life, this is surprising.
And dating life at the university isn't much better. Over 20 percent of respondents said they were never in a relationship while in college, and those who did have relationships topped out, on average, at just one during their four (or five) undergrad years.
It should be noted, however, the survey may not have been entirely accurate.
According to the Boston Globe,
The Harvard Crimson study of the class of 2015 was not a random sample of the student body. It did get email responses from 760 people  —  nearly half the senior class  —  though not all of the participants answered every question.
So this question remains: Is Harvard's dating scene really that bad? And how does it stack up against other colleges?
Harvard alumni, if you're out there, let us know.
Citations: One Fourth Of Harvard Seniors Say Theyve Never Had Sex In College (Complex), Harvard survey details seniors sex lives (Boston Globe)