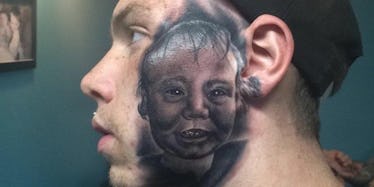 WTF? This Guy Actually Got A Tattoo Of His Son's Face On His Face (Photos)
Face tattoos: generally a bad idea.
Face tattoos of another person's face: definitely a bad idea.
Looks like Christien Sechrist never got the memo because the 20-year-old did just that last July. He got a massive black-and-grey portrait of his son's face on his cheek.
On one hand, it's kind of crazy, but on the other, it's kind of sweet. Tattooing someone else's face onto your own takes some serious dedication.
The news surfaced this week after a photo of the ink addict's touching tribute was posted to Imgur and subsequently featured on a handful of media outlets.
While many react exactly how you'd expect -- with horror -- Sechrist insists it hasn't affected his ability to hold down a job.
Plus, his son Perseus loves it.
The Houston native has several other tattoos, including a skull and rose piece on the other side of his head and face.
Check out some photos of the ink job below.
Face on a face: tattoo inception.
Sechrist's son (and muse) "loves" his daddy's ink.
And it's obvious daddy loves his son very much.
Sechrist has several other statement tattoos.
But this one, while controversial, is special.
Sechrist is training to be an electrician.
He says his tattoos haven't stopped him from holding down a job.
To each his own.
Citations: A Guy Got A Very Big And Very Realistic Tattoo Of His Baby On His Face (Buzzfeed)