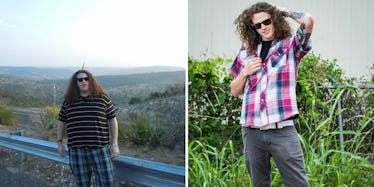 Guy Gives Up Drugs, Alcohol And Junk Food, Loses A Whopping 125 Pounds
As a teenager, Stephen Odom spent much of his free time doing what teenagers do: drinking alcohol and smoking weed. But unlike his friends, who were able to keep their use recreational, Odom developed a habit.
In a blog post, he explained,
It started out as a fun party surrounded by people, but eventually turned much darker. I was constantly seeking to push the envelope. Constantly trying to not feel anything. Trying to numb that internal malady.
By the time he was 22, Odom was a full-blown addict and alcoholic: He polished off a gallon of whiskey every couple of days and spent the rest of his time taking pills and inhaling nitrous oxide.
When his therapist gave him an ultimatum -- get clean or find a new therapist -- he knew it was time to get his life together. So he checked himself into rehab, and after intense withdrawals and several relapses, he got clean for good in 2009.
Though he'd sobered up, Odom ballooned to almost 300 pounds from his drinking and poor eating habits when he was high.
As a part of his new lifestyle, he sought to drop the extra weight.
Although it was "daunting," he stayed committed,  and in a matter of four years, he dropped to a slim 175 pounds. Along the way, he developed a new lease on life.
He wrote in an email to BuzzFeed,
Today life is good.
Odom is now a successful photographer and music production assistant. In his story he shared with BuzzFeed, he offered advice for anyone embarking on a similar journey.
Check out some inspiring before-and-after shots of the 28-year-old below, and head to his blog for more on his incredible story.
On his blog, Odom writes of the suicidal thoughts he had during the height of his addiction.
During his addiction, he got two DWIs and remembers very little of his early 20s.
In 2009, Odom finally agreed to go to rehab for the first time.
After getting clean, he sought to drop the weight he'd gained as an addict.
He stayed committed to a clean weight loss -- one without drugs, surgery or cigarettes.
Odom quit eating junk food and began exercising on the elliptical.
Today, he's a slim, healthy 175 pounds -- and over four years clean.
After conquering his addiction, Odom wrote in his blog, "I am happy."
Citations: Heres How This Man Quit Drugs Alcohol and Junk Food And Lost 125 Pounds (BuzzFeed)