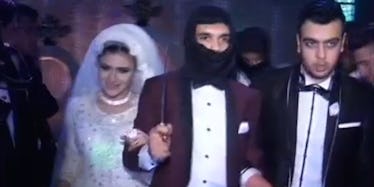 WTF: Groom Organizes Fake ISIS Invasion For Terrible Wedding Surprise
Ahmed Shehata wanted his wedding to wife Shymaa Daif to be unique, an event the couple -- and all of the guests -- would remember forever.
So he organized a surprise to ensure the night would be as special as he'd dreamed.
Unfortunately, Shehata's idea of a "fun surprise" was to have his friends dress as ISIS militants and "storm" the wedding.
Shehata told Egypt's Youm7 News,
The idea came to me two weeks before the wedding, because I wanted a wedding night that is... not like everybody else's.
He certainly got his wish: A video of the reception shows a group of knife-wielding militants randomly appearing and pushing people aside to erect a large, prison-like cage.
Post by Ahmed Kassem I Photography.
While the signature music from ISIS' execution videos plays, one of the faux jihadis drags the newlyweds into the cage and locks it.
By then, "...some of the attendees thought ISIS was about to storm the wedding," according to photographer Ahmed Kassem.
But then ISIS' music turns to dance party music, and the newlyweds, still locked in their terror cage, start dancing like nothing happened.
After a moment, the guests join in.
And that is the story of the worst wedding surprise ever. The end.
Citations: An Egyptian Groom Surprised His Bride With An ISIS Wedding Dance In A Cage (Buzzfeed)