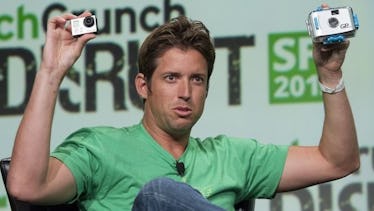 GoPro Founder Keeps A $229 Million Promise To His College Roommate
The founder of GoPro doled out $229 million in company shares this week after honoring a promise he made to his college roommate.
Over a decade ago, GoPro, Inc. founder and CEO Nick Woodman made a verbal agreement with Neil Dana, who was his roommate at the University of California, San Diego. He planned to give him 10 percent of the proceeds he received from the sale of GoPro shares.
Dana was GoPro's first employee and currently serves as the company's director of music and specialty sales, Bloomberg reports.
Woodman, 39, valued the promise so highly, according to Fortune, he included its terms in the S-1 GoPro filed with the Securities and Exchange Commission just before going public.
The agreement was canceled, however, and replaced with an even better deal for Dana in June 2011.
The music director was given over six million fully-vested stock options, and six months later, he received an additional 270,000 restricted stock units.
Woodman, who is the highest paid CEO in the country, also promised to reimburse GoPro with his own shares should his friend cash in.
On Monday, Dana spent $3.6 million to exercise his options totaling about $229 million.
Woodman's fortune, therefore, dropped by that same amount.
But he's so rich after receiving $285.3 million in compensation last year, his net worth is still $2.3 billion.
Not bad after giving up 4.7 million shares in one of the most successful startups in history.
Citations: GoPros CEO Just Dropped 229 Million to Fulfill a Promise to His College Roommate (Bloomberg), GoPro CEOs promise to a college friend just cost him 229 million (Fortune)