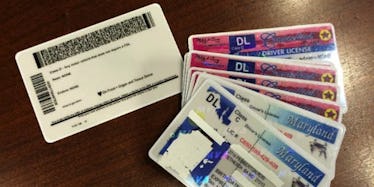 Fake IDs For Student Named 'Dean' Accidentally Sent To School's Dean
Twitter
A collection of fake IDs meant for a Pennsylvania college student named "Dean" were accidentally sent to a dean of the student's institution.
The faculty member of the unspecified college located in Radnor Township received a package on Jan. 5 sent from Guangzhou, China, according to Philly.com.
Inside was a small picture frame with eight drivers licenses resembling those issued in Connecticut and Maryland taped to the back.
The fake IDs carried the names of four male 18-year-old students.
Fake IDs meant for a student named Dean accidentally went to a Dean at a Radnor College, police said. pic.twitter.com/lgFAgMqvaS — Mari Schaefer (@MariSchaefer) February 20, 2015
The dean contacted authorities immediately after seeing the IDs.
It was soon determined he had received the package because his last name is very similar to that of the intended recipient.
The IDs were purchased on Idchief.com, which Radnor police say offers good prices if customers buy multiple IDs at once.
It isn't clear where the website is based, but the package was indeed sent from China at some point in late December.
The school has chosen not to charge the four students with a crime, despite the legal repercussions that come with carrying a fake ID.
They have instead been asked to participate in psychological counseling and could face sanctions for breaking school code.
Colleges located in Radnor Township include Villanova University, Cabrini College, Eastern College and Valley Forge Military Academy.
Citations: Name mixup thwarts ID scheme (Philly.com)