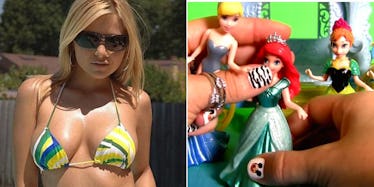 Ex-Porn Star Reportedly Makes $5M A Year From YouTube Channel For Kids (Photos)
Facebook
The owner of one of YouTube's most popular channels has been revealed to be a former adult film actress.
YouTube channel DC Toys Collector shows a pair of female hands taking toys out of boxes and then demonstrating their use.
Children are reportedly hypnotized by the videos, which have been viewed billions of times and earned their female narrator approximately $5 million a year.
The woman does not show her face, but several residents of a high-end community in Orlando, FL, say the voice in the videos is that of their 32-year-old Brazilian neighbor, Daiane DeJesus.
One neighbor said,
That is Daiane. She has a very childlike voice and I would recognize it anywhere.
Neighbors of the Florida suburb in which DeJesus used to live told Daily Mail they would see UPS and FedEx trucks arrive at the home nearly every day.
Another neighbor said,
There would be delivery trucks up to three times a day. We all wondered what was going on and what was being dropped off.
Further investigation from Daily Mail then revealed that DeJesus used to be a porn star known as Sandy Summers.
Four residents of her old neighborhood pointed out a scar and mole on DeJesus's left elbow, matching a recent photo of her to an image from her adult film days.
DeJesus quit the porn industry seven years ago, according to Daily Mail, and now has an 18-month-old son.
Some of her former neighbors discovered DeJesus' secret when they saw her being photographed in her backyard.
A former neighbor said,
Most people in the street eventually knew what she was up to. Her husband said he ran a photographic business but he never left the house. That was strange. We just thought they were so secretive we thought something had to be going on. Then someone said we should look at Sandy Summers' website and it all clicked into place.
DeJesus' most popular video is "Play-Doh Sparkle Princess," according to Daily Mail, with over 200 million views.
She has five other videos that have been viewed more than 40 million times and another 15 videos with over 20 million views each.
The voice behind DC Toy Collector is reportedly a porn star from Brazil.
She kept her job a secret from neighbors, but they soon found out.
Her photos were taken by her husband at their former home.
Old friends recognized her by a scar on her elbow.
Here's one of her videos, which has already amassed millions of views.
Citations: Brazilian former PORN STAR is owner of mystery hands behind 5million a year YouTube sensation Disney Collector (Daily Mail)