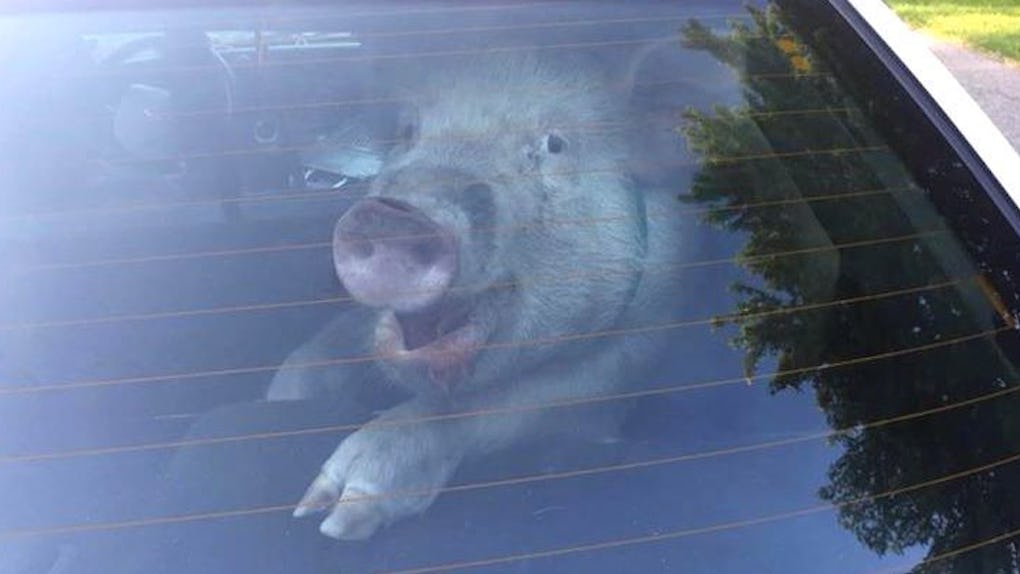 Facebook
Escaped Pet Pig Poops In Back Of Police Car And Looks So Happy About It
An escaped pig with a bad attitude has the best mugshot of the year.
In Shelby Township, Michigan, a pet pig known as Daisy escaped her home Thursday and went for a walk.
Local Debbie DeRiemaecker reported the pig ran toward her while she worked in the front yard, but then it become distracted by an "lawn ornament."
Police soon arrived at DeRiemaecker's home and pulled the pig into the backseat of their vehicle.
As one officer snapped a photo of the seemingly grinning pig, the animal chose to eliminate all over the car's backseat.
Deputy Chief Mark Coil told the Detroit News this is far from his first pig, adding,
For some odd reason Shelby Township is like Noah's ark... In light of what is going on in our profession on a daily basis, a good chuckle is always welcomed.
The pig has since been returned to her owners, but not before she left behind a story -- and a mess -- that got a whole town talking.
If this is a pig that looks like she's got an amusing secret, that's because she does.
She had to go.
It was certainly a strange day for Officer Treworgy, the policeman who filmed his unlikely passenger.
If you have been following our piggy story, you will get a kick out of this. Officer Treworgy just sent me this "post arrest" video of the "perp". You can hear Tree say something like " yup, that's in my police car"..... Almost like he's trying to convince himself that there is actually a pig in the back of his patrol car. Lol! Posted by Shelby Township Police Department on Friday, May 29, 2015
The pig's owner volunteered to clean the filthy squad car.
And the Shelby Township Police Department has never been so popular -- or entertaining.
Citations: This Little Piggy Got Locked Up Hog Captured Cracking a Cheeky Grin After It Was Captured By Cops (Daily Mail)