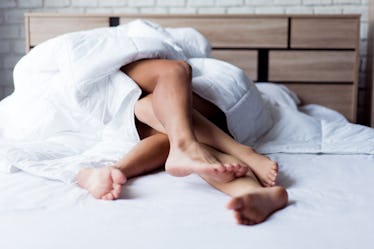 This 27-Year-Old Med Student Just Sold Her Virginity For A Whopping $801,000
Shutterstock
Earlier this year, Elite Daily broke the story of the 27-year-old med student auctioning off her virginity. Under the pseudonym Elizabeth Raine, she explained in an exclusive interview that she was prepared  to give up the goods for a handsome fee, which she planned on using to pay for school.
In a "warm" welcome to her website, the aspiring physician writes:
"In case you have not yet heard what precisely this is about, I am a sensually stunning, highly educated and charismatic American woman who has placed a 12-hour date with me atop the auction block.
"And did I mention I'm a virgin? Yes, that's right; I have made the bold (but not thoughtless) decision to auction off my virginity. I hope you are intrigued!"
Since April, the numbers have been climbing steadily as bidders competed for the opportunity to spend a night with the self-proclaimed "virgin whore."
Well, bidding officially closed at 8 pm EST on Wednesday, with a winning bid of $801,000. Let's all extend a hearty congratulations to the lucky winner, "Bidder 27."
Raine explained that she would take several safety precautions to assure that her night with the bidder would be a fun and worry-free experience.
When we had the opportunity to talk with Raine in March, she had not yet revealed any images of her face, and relied on tantalizing body shots to lure in bidders from around the world. Since then, Raine, whose true identity still remains anonymous, has posted pictures of her face.
Here's hoping you sleep well at night, "Bidder 27." Or, like, don't sleep at all during your night with mademoiselle Raine.
UPDATE: Elizabeth Raine has since dropped out of the auction, despite receiving a top bid of $801,000.
via Elizabeth Raine