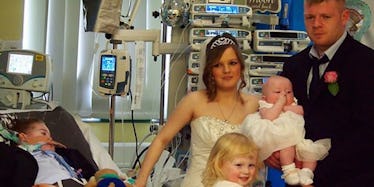 Terminally Ill Boy's Parents Fulfill His Dying Wish And Have Wedding At His Bedside
ITV
Just days before his death, 5-year-old Corey Edwards witnessed his parents' marriage.
The little boy, who was diagnosed with a congenital heart defect just seven months after his birth, even had the chance to serve as ringbearer.
ITV reports Corey's parents, 21-year-old Jemma and 28-year-old Craig, obtained special dispensation from the Archbishop of Canterbury to marry at their son's bedside in the Bristol Children's Hospital.
The Edwards' youngest children, toddler Isabelle and infant Caitlyn, were also in attendance.
The Teignmouth, Devon family reportedly rushed to make nuptial arrangements after receiving news from Corey's ICU caretakers that his resolve was finally weakening and he was nearing death, the BBC reports.
After almost five years of fighting against illness, Corey's small body was shutting down.
For the next two days, the family members and their support system were a blur of activity: Jemma purchased a wedding dress while a hospital staffer baked a homemade cake.
The couple made do with a few festive decorations in Corey's hospital room during Saturday's service.
Craig told ITV the day was about Corey's final wishes, saying, "It may not have been the day we had initially planned in our heads but it didn't matter to us."
"The most important thing for us was having our son Corey at our side, holding the rings and wearing his suit."
"We couldn't have been more proud of him."
Corey passed away less than a week after the ceremony.
Citations: Parents of five-year-old boy with terminal heart defect grant him his dying wish by getting married at his hospital bedside after vowing not to marry without him present (Daily Mail)