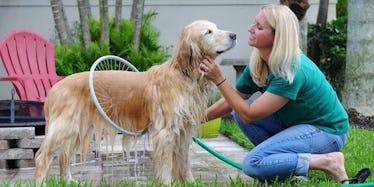 Giving Your Dog A Bath Just Got A Lot More Fun With This 'Woof Washer' (Video)
Cleaning your dogs can be a real pain in the ass.
Whether you have to chase them around with a hose or try to get them to stay in a bathtub, washing them is truly a struggle.
Lucky for dog owners, the most innovative technology for dog grooming is finally here, and it's called the Woof Washer 360.
The Woof Washer 360 is a hilarious contraption that's pretty much a hollow circle that sprays water.
All you do is attach it to your hose, add dog shampoo and get your dog to go through the circle.
It might be hard to get your dog to try this out, but according to the video, it's totally worth the hassle because your dog basically gets a massage.
Why doesn't this exist for humans?
Citations: This Is Definitely The Funniest Way To Wash Your Dog (Huffington Post)