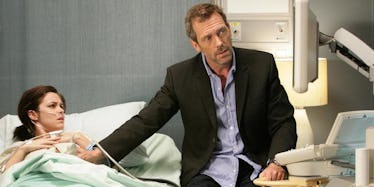 A Doctor Was Caught Having Sex With Patients To Show Them The G-Spot
House/20th Television
It seems the G-spot is not made up, especially for an Ohio gynecologist who was stripped of his medical license for sexual relationships with patients who'd needed help finding their sensitive spots.
The Smoking Gun obtained the records from 48-year-old Dr. Kurt Froehlich's January hearing before State Medical Board of Ohio, and they're not pretty.
Cincinnati resident Froehlich, who is married, had two sexual relationships with subordinate Bethesda North Hospital coworkers in 2010 and 2012.
The first began when a married patient asked for help locating her G-spot, which Froehlich pointed out on a diagram. When she wasn't satisfied with the explanation, he pulled on a glove and showed her, without documenting the moment in her medical records.
All was well until a week later, she reportedly asked him to locate her G-spot again in the on-call room of the hospital, at which point the pair had sex.
But, that wasn't the end of extramarital activity for Froehlich, who was approached by a patient who told him she was unhappy in her marriage and asked for help finding the G-spot. The appointment took a turn for the sexual, resulting in the woman orgasming without intercourse.
Froehlich, who acknowledged his behavior was highly inappropriate, attributed the actions to stress after the death of his mother-in-law and a prostate cancer diagnosis.
He also blamed his erratic behavior on his attempts at the hCG weight loss program, in which practitioners maintain a near-starving diet of 500 to 800 calories a day while ingesting the pregnancy hormone hCG.
Froehlich was later sued in 2013 after prescribing the diet to a new mother whose untimely death may have been related to her 500-calorie meal plan.
The Smoking Gun also claims the gynecologist entered a no contest plea in response to allegations of groping a female coworker's breast in 2013.
Without the medical license he first earned in 1993, Froehlich is left to reconsider his choices.
The rest of us will reconsider our gynecologists.
Citations: Medical Board Strips License Of (The Smoking Gun)