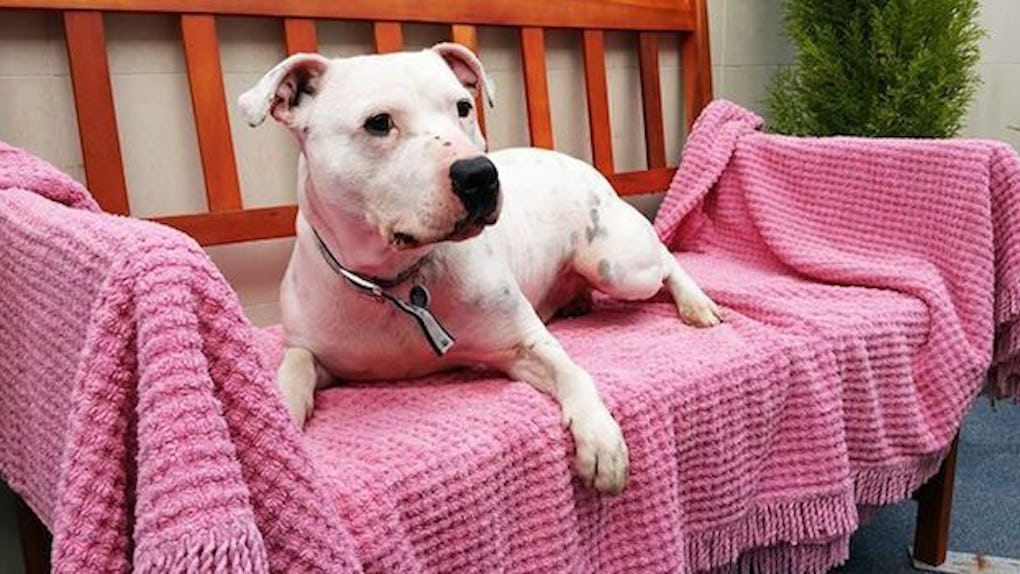 Facebook
Volunteers Teach Deaf Rescue Dog Sign Language So He'll Get Adopted (Photos)
Gordon the pit bull has been looking for a fur-ever home for more than a year.
But the sweet pup is sadly deaf and his medical condition has kept him from being adopted by the loving family he deserves.
Saddened to see poor Gordon remain orphaned, volunteers at London's Mayhew Animal Home where he lives embarked on a journey that might just change everything: They're teaching the crazy cute canine sign language.
Shelter volunteer Raffy Hamid told The Dodo,
Our staff our teaching him and rewarding him with treats.
Another volunteer, Eric Hugenberg, added,
He responds by wagging his tail (very enthusiastically), jumps to get more affection, and pats on the head when he's done something right like sit, stay, stand, or walk. He is very affectionate.
Back in April, the shelter posted a picture of Gordon on their Facebook page.
They wrote,
Gordon's been at The Mayhew far too long now. This intelligent, loving two year old is deaf as a post, but that doesn't stop him kissing everyone and wagging his tail non-stop. Can you please please please share this and help find Gordon the home he deserves?
The shelter hopes with his newfound skill, Gordon will finally find a loving family to live and grow old with.
Gordon now knows the sign language commands for "sit"…
...and "stay"…
...and he can even shake hands!
Gordon may be deaf…
...but he's a wonderful, sweet dog that deserves to be loved.
If you're interested in adopting this smiley faced sweetie pie, contact The Mayhew Animal Home or visit its website to see other pets looking for forever homes.
We wish lil' Gordon the best of luck and all of the tail-wagging happiness he could ever dream of.
Citations: Deaf Dog Learns Sign Language While Waiting For Someone To Love Him (The Dodo)