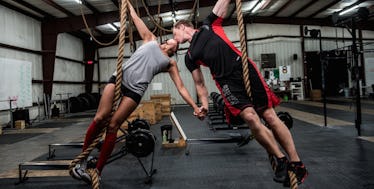 This Badass Crossfit Couple's Engagement Photos Are Seriously Impressive
When CrossFit brings you together, nothing can tear your relationship apart – you're too strong to let it.
Joe and Iliana, who train together at a gym dedicated to the high-intensity training program, decided to pay homage to their passion with a CrossFit-themed engagement shoot.
Gone are the cityscapes and sunsets so common to engagement photography.
In their place is the industrial backdrop of the couple's Ocoee, Florida gym.
The photos show impressive feats of strength, including one where Joe holds Iliana above him as if she weighs nothing.
As two former gymnasts, the pair certainly shares a shared love of fitness.
The pair, who first met while working at Orlando's SeaWorld, told the Huffington Post the shoot is about capturing a pastime that both unites them and helps them act as a team.
That's good training for a strong marriage.
The Pinterest-inspired photo series, captured by Cricket's Photography, is incredible to see.
Some of the most complex poses required a little coaching from Joe, who's two years more experienced than Iliana.
Iliana revealed the shoot had actually started as a throwaway idea.
She explained, "I had joked around with Joe and told him we should take pictures at the box because that's where we spend most of our time together."
"I didn't really think he was taking me seriously."
"Then he asked our photographer about it and she sounded excited so he said we should try it out."
"I was all for it — to just do something that was a little more 'us.'"
But as she explained, the photos represent who they really are as a couple.
She continued, telling the Huffington Post, "On the days we have off together, this is what we look forward to doing together."
"It's a hobby we are both really passionate about and that's something we like to do together"
"It's really fun that you can share it with somebody that you love."
Joe and Iliana, who got engaged this past November, plan to be married April 30.
Their Paradise Cove, Florida wedding is likely to have a bit more lace than their engagement shoot.
These two are a match made in cardio.
Citations: CrossFit Couples Engagement Photos Are Nothing Short Of Badass (Huffington Post )