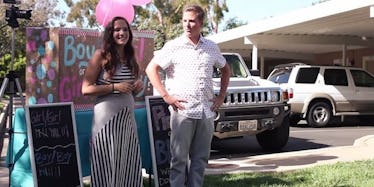 Couple Shocks Everyone By Announcing They're Having Triplets, Not Twins (Video)
In the description box for her YouTube video, mother-to-be Desiree Fortin wrote,
After heartache and lots of tears, we finally fell pregnant through IVF and received the surprise of our lives.
The surprise? Desiree wasn't expecting one baby. Nor two. Instead, when she finally got pregnant, she became pregnant with triplets.
She and her husband kept the news from friends and family and planned to reveal the surprise later in the pregnancy.
During the so-called "Gender Reveal Party," the guests placed votes, guessing what the babies' genders would be.
When it finally came time to tally up the votes and determine who'd guessed correctly, the couple announced everyone guessed incorrectly. Because they aren't having twins. They're expecting three beautiful babies.
The guests' reactions are incredible -- it's hard to not feel their happiness and excitement.
Check out the video up top (skip to the 2:50 mark for the reveal).