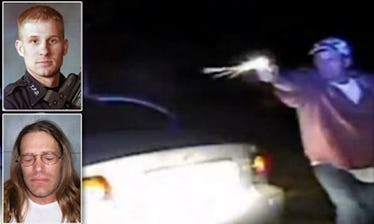 Cop Begs For His Life Before Being Killed During Routine Traffic Stop, Caught On Dashcam [Video]
A video released yesterday shows an Arkansas police officer begging for his life before he was fatally shot during a traffic stop last year. The 20-minute video was shot from Trumann police office Jonathan Schmidt's squad car.
The incident occurred in April 2011.
Jerry Lard was convicted last month of capital murder and has been sentenced to death.
Lard was a passenger in the back seat of the stopped car at the time of the murder.
Trumann Police Chief Chad Henson said that he hopes his officers learned from the incident.
[Schmidt] will be our greatest teacher and our trainer. He's pushing us forward, so with that we'll be better for it.
The video shows Schmidt carrying out a routine check on a vehicle he suspected was uninsured.
Schmidt handcuffed and questioned the driver for an unrelated charge before asked Lard for his name and date of birth. Shortly after, Lard pointed a gun at Schmidt's face as Schmidt opened the back passenger door to get to Lard.
Lard runs from the car and continues firing at Schmidt and officer Corey Overstreet, who was also at the scene.
The video also shows Schmidt helping Overstreet to his feet as Lard continues firing.
As Lard fires at the officers, he can be heard yelling: 'What you got, b****?'
Later in the video, Schmidt can be heard pleading with Lard off-camera: "Please don't shoot me. Please don't shoot me again." After Schmidt is shot, we can hear Overstreet talking to Schmidt as they wait for ambulances to arrive.
We've got help coming, buddy.
Lard was also wounded in the shootout and was arrested at the scene.
A medical examiner confirmed that Schmidt was shot four times. He was shot in the chin, neck, right wrist, and chest, although a protective vest blocked the chest shot.
Prosecutor Scott Ellington praised Schmidt as a hero.
Donald Schmidt, Jonathan Schmidt's father, said that he constantly relives the accident.
If you would like to lie down every night when you go to bed and see someone murdering your son, and then wake up every morning and see someone murdering your son, you can imagine what our life is like.
Elite.