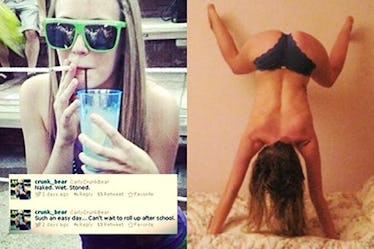 Coolest Teacher Ever Fired For Tweeting Twerk Photos, Calling Students Jail Bait And Smoking Weed
A 23-year-old high school math teacher in Aurora, Colorado has been suspended after it was revealed she was tweeting about smoking weed and posting pictures of herself twerking on a handstand in her panties.
Carly McKinney, was a math teacher at Overland High School in Aurora, Colorado, but was placed on paid administrative leave on Tuesday after the explicit nature of her Twitter was revealed.
McKinney's Twitter account, CarlyCrunkBear (@crunk_bear), has since been taken down, but not before people took screen caps of her exploits.
The young, blonde teacher posted photos of herself smoking marijuana, even boasting that she toked on school grounds.
She also posted a semi-nude topless photo, as well as a photo that was retweeted by Diplo.
"@Crunk_Bear: Listening to @diplo in the shower leads to this... #expressyourself #whitegirlass #twerk #twerkteam," read the tweet.
Her tweets were also explicit and raunchy, and, as a former high school student, I can attest that having a 23-year-old blonde math teacher express these thoughts is nothing but fucking awesome.
"Naked. Wet. Stoned," read one post. "Watching a drug bust go down in the parking lot. It's funny cuz I have weed in my car in the staff parking lot."
She spoke of her days at work and life in general, like any other person on Twitter.
"Just got called Ms. McCutie," she tweeted. "Point for being clever, however you are still jailbait."
We hope people don't scrutinize "Ms. McCutie" too much, as she just seems to be a girl wanting to have fun. Besides, she was teaching high school, it's not like she was teaching a bunch of elementary school students. Let her live!
Hugh Everett | Elite.