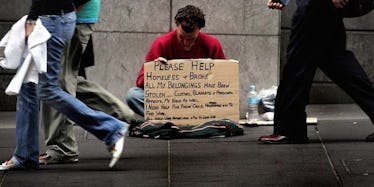 This Canadian City Has Virtually Ended Homelessness With A Simple Solution
Tumblr
A Canadian city is on track to completely eliminate homelessness by way of an extremely humane yet economically sensible plan.
According to Huffington Post, the Southern Alberta city of Medicine Hat launched a five-year plan in April 2009 that revolves around a concept known as "housing first."
March 2015 was the original the deadline to end the epidemic.
The initiative entrusted the Medicine Hat Community Housing Society to find permanent housing for a homeless person within 10 days of discovering the individual is without a home.
Donald Smith, 35, was a former homeless man. He told the Calgary Herald after making an appointment with a housing worker, it was only a few weeks before he was given his own one-bedroom apartment.
He said,
I was shocked how they got me a place fast.
Medicine Hat Mayor Ted Clugston opposed the plan for several years before learning how much money it would potentially save the city.
He told CBC News,
If you can get somebody off the street, it saves the emergency room visits, it saves the police, it saves the justice system — and so when you add up all those extra costs... you can buy a lot of housing for that amount of money.
Providing health care and legal services to people who are homeless costs well over $80,000 a year, reports Alberta's Ministry of Human Services.
Placing them in homes using "housing first," however, amounts to nearly $30,000 a year.
As of March 31, 2015, 885 homeless people were given places to live in Medicine Hat.
Mayor Clugston viewed this as a huge success because even though Medicine Hat's population is just about 61,000, the city had nearly as many homeless people per capita as the much larger city of Calgary.
He told the Calgary Herald while homelessness is not officially erased from his city just yet, he believes it may very well happen by the end of the year. At that point, he suggested, the plan can be declared fully "sustainable."
Medicine Hat is one of the seven Canadian communities using the "housing first" plan.
The participation of Calgary, Lethbridge, Edmonton, Grand Prairie, Red Deer and the Regional Municipality of Wood Buffalo resulted in a 16 percent drop in homelessness across all seven regions since 2008, reports the Huffington Post.
Citations: Medicine Hat Homelessness Could Reach Its End This Year (Huffington Post), Medicine Hat is about to end homelessness but then what (Calgary Herald)