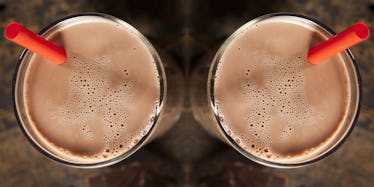 Scientists Create Chocolate Milk That Is Great For You Post-Workout
Shutterstock
There's nothing your body will love more after a workout than chocolate milk.
Experts at Cornell University hail the 1 percent version of the drink as the greatest source of replenishment for tired muscles, The New York Times reports.
To make it even better, Clint Wattenberg, the school's sports nutrition coordinator, and Jason Huck, the former manager of Cornell's on-campus dairy plant, recently set out to concoct a modified chocolate milk that would outperform any protein shake.
The creation would not only provide energy but also prevent athletes from feeling the need to overeat after workouts.
After mulling over a series of ingredients, they eventually arrived at a low-fat beverage with 16 grams of protein and 230 calories.
That's nearly twice the protein and calories as the chocolate milk served in schools, but the modified drink is served in the same 8-ounce bottle.
Someone weighing 150 to 160 pounds needs roughly 20 grams of protein to replenish his or her muscles, said Wattenberg, who is a two-time all-American wrestler.
He said,
The composition of low-fat chocolate milk is probably the gold standard for a recovery beverage. We don't have to second-guess where this supplement is coming from.
Athletes additionally relish chocolate milk's taste after a workout because the sugar triggers the repair of muscles and glycogen.
The new beverage will be known as Big Red Refuel and is expected to be available within the coming months.
Wattenberg suggests drinking it 30 minutes after exercising.
He and Huck are now looking to create a similarly efficient post-workout yogurt and smoothie.
Citations: Cornells Chocolate Milk Fills Refueling Gap (The New York Times)