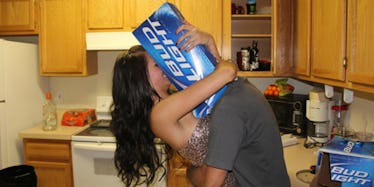 Bud Light Was Putting It Lightly When It Said It 'Missed The Mark'
I joined a sorority my freshman year of college, like so many girls who move to a brand new city and are eager to make new friends.
What I didn't know at the time was sororities aren't just secretive about initiation practices and how they determine who is "accepted"; they're also secretive about sexual assault and rape.
When I heard about Anheuser-Busch's new ad calling Bud Light "The Perfect Beer for Removing 'No' From Your Vocabulary For the Night," I was extremely concerned.
I'm usually the first person in my group of friends to say, "You're being hypersensitive; let it go." But in this instance, perhaps due to my own college experiences, I can in no way be dismissive.
There's no excuse for irresponsible advertising, and that's exactly what this is.
At a time when women need to feel encouraged to speak up and to speak out, this kind of branding tells them not to.
The timing of the advertisement couldn't have been more unfortunate for Anheuser-Busch (the company who makes Bud Light).
It coincided with the release of Harvard's survey of Millennials, which found 36 percent of women in the United States between the ages of 18 and 29 have had some kind of experience with sexual assault "either directly or through a close friend or family."
Of this group of women, between 38 and 55 percent of them never reported the incident, with the latter figure representing Hispanic women who did not report.
In light of these numbers, it's particularly disturbing not one advertising-savvy individual at the company questioned the phrasing on the beer bottles.
But to one former high-ranking employee of the company, who left in 2008, it comes as no surprise.
Francine Katz, once the highest-ranked female at Anheuser-Busch, described the atmosphere at her former company as "a locker room and frat party."
She ultimately left because she felt her place of employment "discriminated against women."
Bud Light and the college life
Rape on college campuses, where drinks like Bud Light are popular for their low cost and low calories, has been prominent in the news lately.
Most recently, Rolling Stone apologized for printing a false story of an on-campus assault and will now face a lawsuit from the UVA fraternity that it pinpointed in the article.
This inaccurate piece was damaging to college women everywhere, all of whom inevitably became concerned people would question the validity of their stories.
The article may have diminished the likelihood that victims would report their assaults, according to an NPR report.
In more recent news, Jon Krakauer released an account of five University of Montana rape cases, entitled "Missoula: Rape and the Justice System in a College Town."
The publication of his book was met with a shocking review from The Wall Street Journal writer Stuart Taylor Jr., who said the fact stating 2 to 10 percent of sexual assault reports are false is a "misleading" piece of information.
He prefers to cite an "older" study, which "suggests the possibility that up to 40 percent to 50 percent of accused men may be innocent."
In the midst of all this credibility-questioning, Bud Light has added the latest installment of its "Up for Whatever" marking campaign to the mix.
This came at a time when there's already too much focus on the veracity of accusations and too little focus on what is really going on.
Yes, there are false accusations. But there are a preponderance of accusations that are never made, that we never hear about, that never receive media attention. In my own sorority, I heard multiple stories of rape that went unreported.
Greek life and its objectification of women
Smart, outgoing women were silenced by the fear they would be ostracized by the Greek community if they were to report what happened to them.
Some were told to keep quiet by their own "sisters" for fear fraternities would no longer want to have parties with their houses if women kept "crying wolf."
It was a known fact sexual assault and rape happened, but we wouldn't talk about it, except perhaps one drunken night months or even years later, when people poured their hearts out to girlfriends.
It was fear that kept women I knew from sharing what happened: fear of being social outcasts in their sororities and at the same time, fear of the "sorority girl" stereotype from the community.
Other students and much of society see women in the Greek system as people focused more on partying and looking a certain way than anything else.
Letters written by sorority women and released to the public haven't helped this perception. Women fear because they were drinking the night they were raped, people may somehow see them as compliant in what happened – not victims at all, but irresponsible, drunken, "typical" sorority girls.
Anheuser-Busch's advertising only perpetuates this idea. Its wording lends itself to the idea that as you drink, your capacity to say "no" diminishes, and you are, in turn, "#upforwhatever."
Of course, drinking doesn't make you "#upforwhatever," "#okwithanything" or even "#willingtohavesex." But when a powerful company with a loud voice paints with this kind of brush, the idea drunk women are more compliant women is perpetuated.
Bud Light didn't mean it like that
The company has since gone on the defensive, with Lisa Weser, senior director, marketing communications at Anheuser-Busch, writing snappy tweets back to one Los Angeles writer who expressed dismay at the company's branding.
Rather than appearing apologetic, she called the labeling "an honest mistake," then tweeted:
Let's not diagnose a wart as cancer.
Her language was a departure from the much less inflammatory apology issued by Alexander Lambrecht, vice president of Bud Light, who said the messaging:
Missed the mark, and we regret it. We would never condone disrespectful or irresponsible behavior.
It may have been an honest mistake the company deeply regrets. But wouldn't someone at the company have considered how the wording could be interpreted?
Perhaps Anheuser-Busch didn't care until it was reprimanded for it, but either way, the labels were put on beer bottles and distributed.
The label language has gone out into the world and may give the wrong idea to young men.
Unfortunately, it could also give the wrong idea to women like the ones I went to school with, who never told their stories.
Who will we have to blame when they are ushered, once again, into silence?
Citations: Bud Light Says It Missed the Mark With Line About Removing No From Your Vocabulary (AdWeek), New Harvard Study Finds That an Astounding 36 Percent of Women Have Been Affected by Sexual Violence (Cosmopolitan), Anheuser-Buschu2019s former queen of beer on that Bud Light label I would have killed it immediately (The Washington Post), Phi Kappa Psi fraternity says it plans to pursue all available legal action against Rolling Stone over reckless reporting of UVA story (DailyMail), Rolling Stones Damaging Journalism (The Washington Post), Report Shreds Rolling Stone Rape Story, But Many On Campus Have Moved On (NPR), Jon Krakauer Defends New Book on College Rape (TIME), The Plague of Campus Rape (The Wall Street Journal), The Most Deranged Sorority Girl Email You Will Ever Read (Gawker), Missed the mark Bud Light admits latest branding mistake (MSNBC)