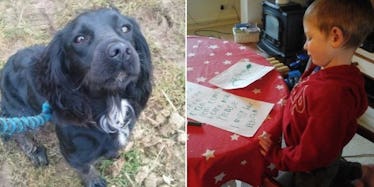 Adorable 4-Year-Old Boy Writes Letter To 'Bad Men' Who Stole His Dog
In the two years since Sprocker spaniel Fern was stolen, Ethan Ferrier has never forgotten her.
Ethan, who is now 4 years old, learned to write letters at school on Monday.
Instead of addressing a note to his mother or father,  however, the little boy is receiving viral attention for penning a letter to "the bad men who took Fern," asking them to bring her home.
The primarily black spaniel, one of four canines owned by the Ferriers at that time, was reportedly stolen on April 28, 2013, in the rush of popularity after the Duke and Duchess of Cambridge adopted a very similar dog.
Because there was a shortage of breeders, would-be dog thieves may have seen an opportunity.
Jodie, Ethan's mother, told The Telegraph,
Fern looks almost identical to Lupo [the royal dog] and we've spoken [to] endless dog charities and police who tell us the same story -- that demand for cocker spaniels is outstripping supply because of the popularity of Lupo.
She continued,
Ethan was very, very upset when Fern was taken from our farm -- he would ask over and over again why anyone would want to take her from us.
But, after two years of a #FindFern social media campaign, the microchipped dog is still far from found. The Malden Rushett, England family is losing hope that Fern is alive.
And with the recent death of one other dog, Megan, Ethan hopes he'll have a little help from beyond the rainbow bridge. He reportedly asked his mom,
If Megan is now an angel, can she look for Fern?
Fern was little more than a puppy when she went missing, just a year old.
The Telegraph reports Ethan still asks about her every day.
Ethan's note, written with the innocence of a child, asks the "bad men" to return Fern.
The Ferriers aren't giving up on Fern just yet.