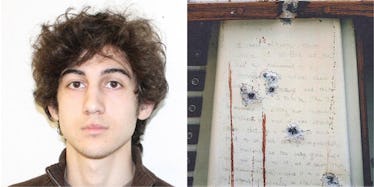 Boston Bomber Wrote A Confession On The Boat Where He Was Captured (Photo)
Getty Images/Twitter
Photographs of the note written by Boston bomber Dzhokhar Tsarnaev moments before his capture were revealed in court on Tuesday.
Tsarnaev, 19 at the time, used a pencil to craft the note inside the boat in a backyard of a house in Watertown, MA, on April 19, 2013.
The holes in the wall were made by police gunshots that nearly killed Tsarnaev, who is currently on trial for killing three and injuring more than 260 in an act of Islamic extremism.
the boat note. recapping today on @npratc tonite #tsarnaev #tsarnaevtrial #bostonbombing pic.twitter.com/YBGnM8R1Bc — tovia smith (@toviasmithnpr) March 10, 2015
It states that the attack he and his deceased older brother unleashed just days beforehand was in revenge for America's slaughtering of Muslims.
Here's a full transcription of the note provided by Boston.com:
I'm jealous of my brother who ha [hole] ceived the reward of jannutul Firdaus (inshallah) before me. I do not mourn because his soul is very much alive. God has a plan for each person.
Mine was to hide in his boat and shed some light on our actions I ask Allah to make me a shahied (iA) to allow me to return to him and be among all the righteous people in the highest levels of heaven.
He who Allah guides no one can misguide A [hole] bar!
I bear witness that there is no God but Allah and that Muhammad is his messenger [hole] r actions came with [hole] a [hole] ssage and that is [hole] ha Illalah.
The U.S. Government is killing our innocent civilians but most of you already know that.
As a M[hole] I can't stand to see such evil go unpunished, we Muslims are one body, you hurt one you hurt us all, well at least that's how Muhammad (pbuh) wanted it to be [hole] ever, the ummah is beginning to rise/awa [hole] has awoken the mujahideen, know you are fighting men who look into the barrel of your gun and see heaven, now how can you compete with that.
We are promised victory and we will surely get it. Now I don't like killing innocent people it is forbidden in Islam but due to said [hole] it is allowed. All credit goes to [hole].
The photos were presented one day after the court saw video of Tsarnaev fleeing a crowd before and after his bomb went off.
Prosecutors are seeking the death penalty while the defendant's lawyers are claiming that Tsarnaev only participated in the attack because his brother convinced him to.
Tamerlan Tsarnaev is thought to have become radicalized in Dagestan, Russia, and was killed in a police shootout hours before Dzhokhar was captured.
Citations: Heres the Note Dzhokhar Tsarnaev Wrote Inside the Boat Where He Was Captured (Boston.com)