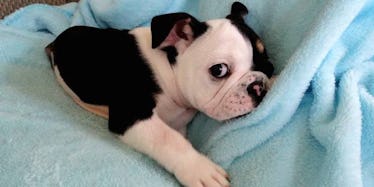 This Little Bulldog Only Has Half His Body, But He's Twice As Adorable (Photos)
Sometimes, love is the best medicine.
This is especially true in Bonsai the bulldog's case.
On April 17, the black-and-white pup was born bearing the marks of several debilitating congenital defects, including a deformed spine and underdeveloped hind legs.
His owners feared Bonsai would never lead a happy life.
So, they contacted Friends of Emma, a rescue organization for disabled dogs based in Fort Worth, Texas.
Through the organization, Bonsai was able to receive the medical attention he needed, and in June, both of his hind legs were successfully amputated.
Fortunately, lil' Bonsai is healing wonderfully. He still has a long way to go, but with this much love on his side, I know he'll pull through.
In April, vets diagnosed Bonsai with multiple genetic defects.
They believe he was born with spina bifida, sacrocaudal dysgenesis, caudal regression syndrome and Swimmer Puppy syndrome.
Bonsai was certainly dealt a very difficult hand.
But after an amputation on his deformed hind legs last month, the lil' chubster is doing much better.
He's as happy as any puppy could wish to be, and he even has friends just like him.
Bonsai's handlers set up a Facebook page for the pup…
...and a YouCaring fundraising account to raise money for his future medical expenses.
If you can, donate to help little Bonsai live the life he deserves…
...and support Friends of Emma by donating here.
Bonsai's story could have ended in tragedy...
But thanks to the love and support of people all over the world…
...his story has only just begun.
<3
Citations: Half a Dog Twice the Love Rescued Puppy Born With 2 Legs Needs Your Help (Bored Panda), This Cute Pup Only Has Half of His Body But Hell Win Over Your Whole Heart (BuzzFeed)