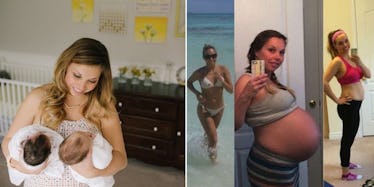 Mother Of Four Bravely Shares How Her Body Changed After Having Kids (Photos)
A mommy blogger who opened up about her struggles with post-pregnancy weight has seen the softer side of the Internet.
Joanna Venditti, the author of Nesting Story, recently posted a heartfelt entry about how her shape and confidence are faring after giving birth to four children, including a pair of twins, in five years.
The short answer: Venditti just takes it day by day, fitting in exercise when she can.
Venditti's post delves into how uncomfortable she felt about her body before kids.
She relied on crash dieting in order to lose weight before events.
Venditti reveals having children made her respect her body for the first time.
The mother explains she chose to begin thinking of her stomach as a "vessel" for human life while she carried her twins.
And with that, something began to change.
Although Venditti still copes with the reality of a new body, she's conscious of the fact she's brought lives into the world...
...And that's a pretty incredible feeling.
Thousands of women responded to Venditti's post, thanking her for her honesty.
https://instagram.com/p/szrXL4lLKC/embed/
Venditti says the birth of her twins physically "bruised and battered" her body.
She explains, "My distracting enormous but adorable baby bump had been deflated..."
"I was left with mush, bruising, swollen ankles and healing from a c-section."
https://instagram.com/p/wRMIDsFLI0/embed/
"I had this sadness for my body. I felt so badly for it with the state it was in…"
https://instagram.com/p/0CzRGWFLKA/embed/
"And at the same time was so grateful for what it had done. It had safely created two humans and carried them for 37 weeks and 4 days."
https://instagram.com/p/z0EcJeFLCX/embed/
"I made the decision to be kind to my body from now on."
https://instagram.com/p/wHIqdhFLFo/embed/
Citations: Mom of 4 Shares Beautiful Before/After Photos From Each Pregnancy (Cosmopolitan)