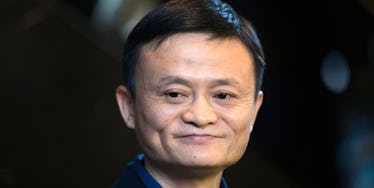 Billionaire Jack Ma Says He Was Happier When He Was Earning $12 A Month
Facebook
Poor Jack Ma. Poor Jack Ma worth $22.2 billion.
Jack Ma might be the executive chairman of Alibaba, a billion-dollar Chinese e-commerce group, but that doesn't mean he's happy about it.
On Tuesday, while speaking at a luncheon with the Economic Club of New York, Ma said the happiest times of his life weren't as the cofounder of a company with the highest IPO of all time, but rather as an English teacher making $12 a month in his hometown of Hangzhou, China.
He believes when you have less money, you know how to spend it better. Now that Ma has access to obscene amounts of cash, he feels a greater responsibility to spend it on benefiting society.
At some points during the speech, he even went as far as to say if he had another chance, he wouldn't have done the Alibaba IPO.
Ma has a small history of speaking about the burdens that come with being wealthy. In September 2014, he told CNN when you get your first million, you're a lucky person, but when you reach $10 million, you start to have issues.
Jack isn't exactly a typical Mark Cuban-style billionaire. Instead of owning sports teams and drinking champagne out of Larry O'Brien Championship Trophies with Lil Wayne, Ma is known to spend his money performing in pop concerts for his staff and marrying them in mass 700-person weddings.
You know what? I actually feel bad for him. It's a big burden for one man to bear. Jack, Ma man (Get it? Yeah, we got it.), if you're reading this, I'm willing to bite the bullet and take some of that money from you. Nothing crazy -- maybe a few billion, just to ease the stress.
No need to thank me. Venmo me.
Citations: Alibabas Jack Ma 12 a Month Was Better (USA TODAY)