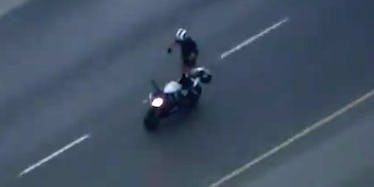 Biker Stands Up And Appears To Take Selfie During Wild Police Chase (Video)
A motorcyclist with skills to boast about led California Highway Patrol officers on a televised chase through two counties yesterday.
He stood on the bike, sped up to over 100 mph and – as some outlets reported – may have even shot a selfie.
NBC Los Angeles reports the culprit was 22-year-old Phillip Resendez, a young father who pulled over at an Ontario, California gas station and submitted to officers after an hour-long display of traffic-endangering tricks.
Police reportedly arrested the man on charges of driving on the wrong side of the road and not yielding to law enforcement.
According to NBC, Resendez is being held on a $100,000 bail and will appear before a judge Friday.
Citations: Biker takes selfies, pops wheelies during chase by California Highway Patrol officers (NY Daily News)