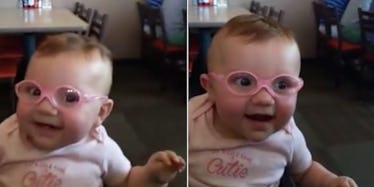 Adorable Baby Trying On Glasses For The First Time Will Melt Your Heart (Video)
Trying to get a baby to wear any kind of accessory is nearly impossible.
Even though baby Piper fought against wearing her glasses at first, once she realized their purpose, her reaction was amazing.
According to a comment Piper's mother, Jessica Sinclair, left on the video, Sinclair guessed her daughter's vision might be impaired before she even started crawling. So, she took Piper to a doctor and found out she is +7.00 in one eye and +5.00 in the other.
After the adorable Piper puts on her new specs, her huge smile lets us know just how well the adjustment works for her.
This heartwarming video her mother posted on Facebook already has over 260,000 shares and over 18 million views.
I dare you not to tear up a little when you watch this.
Picked up her glasses. Went out to eat and put them on her. Her reaction :) melts my heart Posted by Jessica Sinclair on Saturday, June 6, 2015