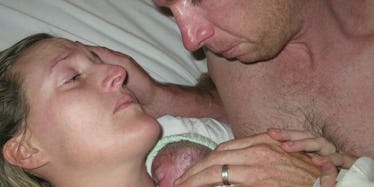 This Baby Was Brought Back To Life When His Mom Started Cuddling Him (Video)
Time to get out the tissues; this new Johnson's Baby video has me asking for hugs from my coworkers.
It's the story of Kate and David Ogg and their son, Jamie.
Doctors told the new parents that one of their twins, Jamie, had not survived a premature birth, and the new parents had to say "goodbye."
However, Kate's maternal instincts quickly kicked in and she demanded her husband take off his shirt and get in bed with her and their baby son.
She thought that having body heat would make her son's cold skin feel better. It did.
Slowly, the baby boy started to move and even breath. When Kate and David called in the nurses, they said that the child was dying in their arms.
Fortunately, he was actually gaining strength.
The boy fought through his rough start and is now a healthy, happy looking kid, along with the rest of his family.
I dare you to try not shedding a single tear watching this one.