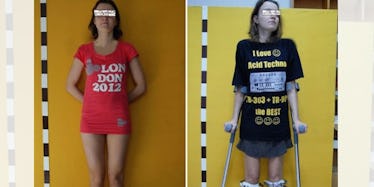 An Aspiring Model Is Actually Getting Surgery To Make Her Legs Longer
Twitter
If you don't like something about yourself, you could use a complicated medical procedure to insert wires rods into your legs and change it.
The Mirror reports 30-year-old Alexandra Transer, an aspiring model, sought leg-lengthening surgery after an agent explained her 5'4" height would never compare to those heights of beauties like Gisele Bündchen, who towers at 5'11".
The Volgograd, Russia woman enrolled in modeling school at age 17, only to be told her height would always hold her back.
After doing a little research, Transer reportedly discovered the Ilizarov apparatus.
According to a student report published by the Oxford University Hospitals, the surgically attached circular device works to create new bone growth through a procedure in which the exterior portion of the bone is cut away.
Transer wouldn't settle for any height less than a willowy 6 feet.
Her procedure came at a high cost, however: The woman saved for the surgery, which cost more than $9,000 (£6,000), by working as her father's engineering assistant instead of attending college like she'd originally planned.
Transer, who since grew nearly 2.4 inches through the painful process of turning screws in her legs four times each day, reportedly hopes to schedule at least two more leg-lengthening procedures before 2018.
The wannabe supermodel told the Mirror even if she's rejected for reasons other than her height, the surgeries will have been worthwhile, adding,
I'll probably be told I'm too old to be a model by then, but I'll dye my hair blonde and at least I will look and feel like one.
Transer will make the world her private catwalk.
Citations: Aspiring model spends thousands on surgery to make legs longer after being told she was too short (Mirror)