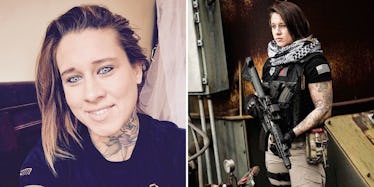 Badass Afghanistan Vet Spends Her Time Tracking Down Poachers In Africa
Instagram
When Kinessa Johnson retired from the army, she promised herself she'd keep fighting — not against terrorism, but rather, against animal poachers in Africa.
Soon after handing over her fatigues, the brave vet moved to Africa to join Veterans Empowered to Protect African Wildlife, a nonprofit dedicated to training park rangers how to catch and detain illegal hunters.
Johnson — who toured Afghanistan during her call of duty — joined the organization last November.
She told 11 Alive in Atlanta,
Our intention is not to harm anyone; we're here to train park rangers so they can track and detain poachers and ultimately prevent poaching. Most of the time, anyone that is in a reserve with a weapon is considered a threat and can be shot if rangers feel threatened. Our goal is to prevent trigger pulling through strategic movements and methods of prevention.
Johnson is currently stationed near Arusha, Tanzania.
Check out some snaps from her Instagram below.
This is Kinessa Johnson.
She served in the US Army for four years.
She was a weapons instructor and a mechanic.
And she served one tour in Afghanistan.
Now, she fights for animal rights in Africa.
She works with Veterans Empowered to Protect African Wildlife.
The organization's goal is to end poaching.
She gets up-close and personal with some of Africa's coolest creatures.
And she really, really likes guns.
Citations: Poaching the poachers female army veteran joins vigilante team hunting down rare wild life killers in Africa (Daily Mail )