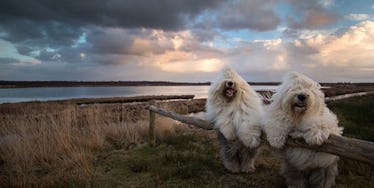 These Adorable Sheepdog Siblings Are The Cutest Best Friends Ever (Photos)
Sophie and Sarah, fluffy Old English Sheepdog sisters from the Netherlands, do everything together.
The furry pups belong to Cees Bol, who enjoys snapping his dogs' funniest and most photogenic moments.
Whether they're visiting McDonald's or heading out for a long walk, the two pups are a team.
Bol told The Telegraph his pups have quite the fan following, saying,
Sophie and Sarah are happy dogs and you can see that in the pictures. People love to watch their adventures and sometimes they have been following them for years. We do our best to put a smile or an 'awww' on people's face.
Sophie, 6, and 4-year-old Sarah weren't always siblings, however.
Originally, Bol only owned Sophie.
He soon began dating his now-partner Hanneke van de Watering, who had two sheepdogs of her own: Sarah and a male dog named Maestro.
When van de Watering agreed to babysit Sophie, both she and her dogs fell in love.
Soon, she'd fallen in love with Sophie's owner, too.
The sisters pose like naturals.
Occasionally, Bol even borrows his friends' dogs to make for a more interesting composition.
They're probably a hairy handful.
But, who can resist all these shaggy faces?
They're practically doggy supermodels.
They just have a whole lot more enthusiasm.
The dogs even merit special birthday celebrations.
Bol told the Daily Mail, "Once a year for Sophie's birthday we go to McDonald's and order french fries and burgers for them -- a kind of doggy birthday party."
It's hard to tell who enjoys the photos more, Bol or the dogs.
And, according to Bol, the dogs never tire of posing.
That's probably because he rewards them with cookies for good behavior.
Bol posts his daily images to Twitter and Flickr, sharing his two favorite faces with a larger audience.
He explained to The Telegraph, "One of the reasons I post the pictures on the Internet is that I noticed I can make people smile."
"It makes people happy to look at them and they check each day if there is a new picture."
"Sometimes I receive mail from people who tell me that when they are feeling a little down they look at the pictures and feel a bit better."
This cheerful pair is happy to help.
Citations: Extremely Photogenic Sheepdog Sisters That Love To Do Everything Together (BoredPanda ), Extremely Photogenic Sheepdog Sisters That Love To Do Everything Together (Bored Panda)